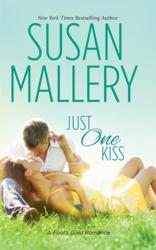 2013 in Fool's Gold is the Year of the Bodyguard. Hunky guys with guns.
Seattle, WA (PRWEB) June 06, 2013
In its first week of release, Just One Kiss by Susan Mallery has landed at #9 on the New York Times bestsellers list for mass market paperback books, #20 on the New York Times bestselling fictional ebooks list, and #20 on the New York Times combined list for print and ebook fiction. Additionally, Just One Kiss has landed at #17 on the USA Today bestsellers list, a list which tracks all books on a single list – fiction and nonfiction, hardcover, paperback, and ebook.
Chosen by BookPage as a "Top Pick in Romance," Just One Kiss tells the story of a man who returns to the small town where he was hidden by witness protection when he was a teen, and he returns to the girl – now a woman- that he never forgot. Justice Garrett can't resist reconnecting with his first love, Patience McGraw, though he fears that the darkness inside him might throw a shadow over her happy life. Patience never forgot Justice either, but as a single mom, she can't afford to give her heart as freely as she once did.
"2013 in Fool's Gold is the Year of the Bodyguard," Mallery says. "Hunky guys with guns. Justice is the first, ostensibly scouting a place where he and his friends from the military can open a bodyguard school. In truth, he came to Fool's Gold because he's never been able to forget his first love. When Patience sees him for the first time, she feels fourteen again. But she has to reconcile herself with the way he disappeared so completely, and the fact that he never contacted her before now, though the danger had passed. She has to decide whether she can trust him not just with her own heart, but with her daughter's, as well."
RT Book Reviews says of Just One Kiss, "The warmth and inclusiveness of this charming town is on full display as Mallery ropes in another reluctant hero. No question Mallery has struck pure gold with this long-running and delightful series!" Just One Kiss has received more than 300 ratings on Goodreads from ordinary people who love books, and an average of 4.23 stars.
Just One Kiss is the first book of Mallery's 2013 beach read trilogy and will be followed in July and August by Two of a Kind and Three Little Words. A free excerpt is available at http://www.SusanMallery.com.