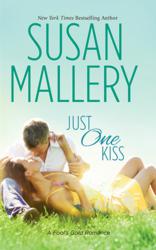 Just One Kiss is as good as it gets in contemporary romance!
New York, NY (PRWEB) June 14, 2013
Susan Mallery's Just One Kiss is on the bestsellers lists for the second week in a row, including a top 20 showing on the New York Times bestsellers list for mass market paperbacks. The book is widely available throughout the country, in bookstores, grocery stores, drugstores, Wal-Mart, Target, Kmart, Sam's Club, and wherever paperbacks are sold. Just One Kiss is the first of three Fool's Gold romance novels Mallery will release this summer, to be followed by Two of a Kind in July and Three Little Words in August. All three books are also available for order as e-books and audiobooks.
"Just One Kiss is as good as it gets in contemporary romance!" raves Debra Taylor of The Romance Reviews. Kirkus Reviews says it's a "sweet, sexy story."
What do everyday readers say? As of press time, Just One Kiss had received 369 five-star reviews on Amazon.com and 284 five-star reviews on Barnes and Noble's website. Based on more than 450 ratings at Goodreads, 99% of readers like Just One Kiss.
In Just One Kiss, Justice Garrett has moved to Fool's Gold to scout locations for the bodyguard school he plans to open with his friends from the military. The quirky small town in the Sierra Nevada foothills of California would seem an unlikely place for an elite defense academy, but Justice is drawn there by his memories of the girl he met when witness protection hid him there as a teen. His friendship with Patience McGraw and the youthful promise of romance provided the only lightness in a very dark time in his life.
Patience had no idea Justice had been in witness protection. All she knew was that he disappeared overnight, without a word. Can she trust him to stick around this time? As a single mom, can she trust him with her daughter's heart?
Just One Kiss is a heartfelt love story told with Mallery's trademark humor. It can be read as a standalone novel, for readers who have not yet read a Fool's Gold romance. A free excerpt is available on Mallery's website, http://www.SusanMallery.com.
About Susan Mallery:
With more than 25 million books sold worldwide, New York Times bestselling author Susan Mallery is known for creating characters who feel as real as the folks next door, and for putting them into emotional, often funny situations readers recognize from their own lives. Susan's books have made Booklist's Top 10 Romances list in four out of five consecutive years. RT Book Reviews says, "When it comes to heartfelt contemporary romance, Mallery is in a class by herself." With her popular, ongoing Fool's Gold series, Susan has reached new heights on the bestsellers lists and has won the hearts of countless new fans.
Susan grew up in southern California, moved so many times that her friends stopped writing her address in pen, and now has settled in Seattle with her husband and the most delightfully spoiled little dog who ever lived. Visit Susan online at http://www.SusanMallery.com.