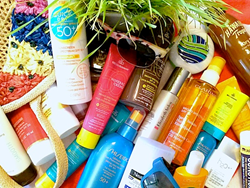 ...the big trend we're seeing in new sunscreens is combining skincare benefits with UV protection...
New York, New York (PRWEB) May 20, 2014
As the Memorial Day 2014 holiday weekend approaches, many consumers will begin to celebrate the upcoming summer season. But let's remember that it's National Melanoma Awareness Month. So before consumers go out to soak in sun rays after this long and wearisome winter, they need to make sure to check out some of the latest and innovative sunscreens from some of the top beauty brands.
This year, it's all about combining skincare benefits with UV protection. Sunscreens in 2014 are no longer thick, they don't cast a chalky shadow and don't feel heavy on the skin. Antioxidant-rich vitamins, botanicals and minerals are in some of these new, lightweight and non-pore clogging formulations. All skin types will be able to protect their skin without experiencing breakouts, irritation or meltdowns under makeup. This year's sunscreens are also taking a cue from tinted moisturizers, providing a sheer layer of color to help even skintone and provide key daily hydration.
In past years, sunscreens from brands like Coppertone, Neutrogena and Clarins have made our list.
See this year's top 24 sunscreens by clicking here - Best Sunscreens For 2014.
***
BeautyStat.com is an online beauty retail platform (that features makeup, skincare and haircare reviews). It has been featured in Women's Wear Daily, LA Times, New York Times, Forbes Magazine, NBC and CBS News. The strength of BeautyStat.com is its captive, engaged and influential 200,000+ community, 190+ blogger network and 40 million social network reach. BeautyStat.com works with beauty brands, retailers and PR agencies to connect them to the BeautyStat community for e-commerce, advertising and rich consumer insights.