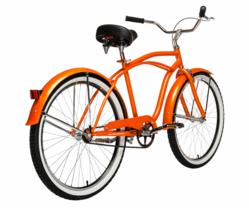 These new and affordable bikes make it easy to see why we're quickly getting a name as Australia's best value bikes.
Melbourne, Victoria (PRWEB) January 18, 2013
Reid Cycles rang in 2013 with the launch of a new range of bicycles. On offer are three modern bike styles, including: road, commuter and mountain bikes with prices starting from as little as $279. Marketing Manager at Reid Cycles David Hannay states, "These new and affordable bikes make it easy to see why we're quickly getting a name as Australia's best value bikes."
Bicycles that can handle a lot of wear, such as road, commuter and mountain bikes, are exceedingly popular and often only available at very high prices. Some of the more advanced styles can cost into the thousands of dollars, putting a quality product out of the reach of many cyclists.
Reid Cycles founder and cycling enthusiast James Reid looked to eliminate this monetary obstacle for bike riders with his simple, yet effective, theory: buy direct from the manufacturer then supply straight to the customer. With the "middle man" eliminated, Reid Cycles have positioned themselves as Australia's best value bike store by supplying the most popular bike styles at unbeatable prices.
The start of 2013 welcomed three new and well-priced collections at Reid Cycles, including: road cycles, commuter bicycles, ladies bikes, and mountain bikes.
The new road bike range has staff at Reid Cycles excited because they "undoubtedly offer the best value in the country for a fully equipped Shimano 105 groupset racing bike," says David. The Falco Elite with Shimano 105 bike is competitively priced at $869, while the further expanded road collection includes the Falco Advanced and Falco Sport for only $669. This latest assortment of road bikes from Reid Cycles enables racing enthusiasts to take advantage of a superior quality product without the high price tag.
The second new bike collection from Reid Cycles is referred to as Hybrid Commuters or the City Range. David remarks, "Our new City Range starts at only $299 for a complete commuting bike, which includes mudguards and pannier rack to make your daily ride a breeze." The commuter bike enables urban and inner-city residents the ability to travel to work with ease, and at a price they can afford. Cycles in this range also come in a suspension fork version for extra comfort.
The final piece to their 2013 launch is the mountain bike collection. These durable bicycles are described by David as "Perfect for getting around the urban jungle...and then backing up for trail duties on the weekend." Being able to handle concrete city streets as well as rugged natural terrains, Reid Cycles' diverse mountain bikes are extreme value for money at only $279. David further says mountain bikers will be pleased to hear, "Our new range covers the classic 26-inch style wheels and the increasingly popular 29er setup."
The new range now sits snugly amongst the existing variety of bicycles at Reid Cycles, which includes their popular single-speed and fixies bikes, like the trendy Beach Cruiser. David says the Beach Cruiser is ideal for summer and "features a laid-back steel frame, coaster brake, and super comfy retro sprung saddle. And at $235 it's a real bargain."
Reid Cycles continue to go a step further for their customers by supplying a free bike kit, valued at $100, with each bike purchase, including those bicycles from their new range. The complimentary kit includes lights, lock, pump and water bottle. What's more, Reid Cycles provide their customers with 12-months of free servicing and a lifetime frame and fork warranty.
Combine their expanding variety of economical bicycles with their renowned quality and service, and it's easy to see why Reid Cycles is quickly becoming known as Australia's best value bikes.
Visit one of Reid Cycle's three retail stores located in Melbourne, Sydney and Brisbane, to preview their bikes for the warm summer weather. Or you can view their entire range, including the beach cruisers, new commuter bicycles, road cycles, and mountain bikes, at: http://www.reidcycles.com.au/
About Reid Cycles
Reid Cycles was originally founded by James Reid, a cycling enthusiast who had the intention of providing cyclists with a great quality bike at an unbeatable price.
Now with 3 thriving locations in Australia's Eastern states and a popular online bike store, Reid Cycles is unique in that it's one of the only bike brands in Australia to sell direct to the public at wholesale prices. They do so by cutting out the middlemen – buying directly from a well established manufacturer in China who produce approximately 4 million of the biggest brand bikes per year – and then selling direct to their customers.
To learn more about Reid Cycles, visit http://www.reidcycles.com.au/about.html/