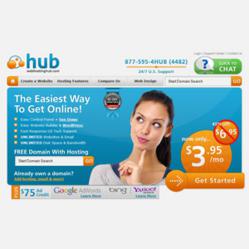 San Francisco, CA (PRWEB) March 27, 2012
Top-Cheap-Web-Hosting.com, a leading independent web hosting review and rating site, today releases the in-depth review for WebHostingHub, the award winner of the best web hosting for 2012, from its current market share, reputation in the community, web hosting features, price versus value, and user rating.
# Who is WebHostingHub?
WebHostingHub is a shared web hosting provider in operated in Virginia Beach, VA, US, founded in the summer of 2006 with only one clear goal: to provide quality web hosting service for personal and small businesses at an affordable rate. WebHostingHub customer support has been recognized as one of the best in the budget web hosting market. Especially they're offering a very low all-in-all shared hosting plan.
# The Market Share and Reputation
By now, WebHostingHub has hosted more than 100,000 domains with 99.9% uptime guarantee and commitment. WebHostingHub has been awarded as the Best WordPress Hosting, Best Drupal Web Hosting, and Best Web Hosting at TCWH. WebHostingHub is also topping the Top 10 list of almost all web hosting review & rating websites.
# All-In-One Web Hosting
Compared to other web hosts having multiple web hosting packages with the intention charging for more money, WebHostingHub provides all basic features usually expected by users from a web host into a single web hosting plan, including the unlimited web space, monthly data transfer, e-mail storage, MySQL databases, and hosting websites. The software auto-installer Fantastico is integrated with their web hosting control panel - cPanel, which allows users to simply install over 50 software for free, including WordPress, Joomla, Drupal, etc.
# Price Versus Value
Best of all, WebHostingHub all-in-one plan is priced for $6.95/mo regularly, but now they're offering a compelling 44% discount for only $3.95/mo. With a 36-month term, the clients can save $108. To learn more about WebHostingHub promotion, visit http://www.top-cheap-web-hosting.com/webhostinghub-coupon-reviews.
Additionally, WebHostingHub gifts 1 FREE domain name for life, and $75 Google AdWords credits & $75 Bing/Yahoo Search advertising credits for US & Canada residents. The residents there can get $186 valued credits (domain $12/y * 3 + $75 + $75) beyond paying $142 for 3 years. With a 36-month term, they actually earn $44 valued credits!
# User Rating
In the ending March 22, 2012, there are 206 real customers voted for WebHostingHub at Top-Cheap-Web-Hosting.com. 99.5% of them are satisfied with the overall service received from WebHostingHub. There is no negative comment!
Nearly all customers have very positive comment on WebHostingHub customer service. It just likes how Nancy, from Florence, Arizona, US, wrote for WebHostingHub, "There are a lot of things I can do, and some I can't. That's when I call the toll free web hosting tech support, and I've never been disappointed. I have worked with other web hosts, and HUB guys have been topnotch. Much appreciated!"
To learn more about WebHostingHub discount, review and secret revealed, visit http://www.top-cheap-web-hosting.com/review/webhostinghub-reviews.
About Top-Cheap-Web-Hosting.com
Top-Cheap-Web-Hosting.com (TCWH) is an independent leading web hosting review website, designed to help people find the best web hosting deal at the most affordable rate, reviewing and rating web hosts based on the true experience and comments from real customers.