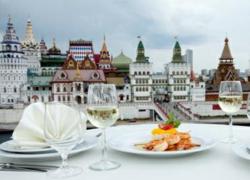 London (PRWEB UK) 1 February 2013
The city break package is comprehensive which includes airport transfers and sightseeing tours at some of the most famous Moscow attractions: the Kremlin, Red Square and the picturesque shopping and cafes on the packed Old Arbat Steet.
Guests will be welcomed at the airport and escorted to the hotel. During the 3 night stay they will be provided with a high standard room with all the services you would expect from 4* accommodation including room service and free internet access to share your trip highlights with loved ones over Skype or Facebook. Alternatively the internet coffee in the lobby provides free access to the internet 24 hours a day.
In the morning a delicious buffet breakfast awaits the guests filled with European cuisine and local treats. The chefs can prepare fresh scrambled eggs or omelet to guests requests.
Sightseeing for the following day is hosted by an English speaking guide and guests are transported on the tour in a comfortable car, mini bus or coach depending on the number of guests. The Moscow experience includes sightseeing of the Kremlin and Red Square, visiting the Temple of Christ the Saviour and the Armoury Museum with a precious Tsarist artifacts collection, as well as strolling through the art and shopping district of the Old Arbat Street. The tour ends seeing Moscow's amazing metro stations which are a truly architectural treat - looking more like museums than underground stations.
For dinners guests have a great range of options to choose from. There are a few restaurants available at Vega Hotel in addition to the two bars and a coffee shop with tasty pastries. For a rustic experience there is a country style restaurant Stariy Dvorik decorated in a cottage style and serving regional hearty meals.
Guests who would like to explore Moscow by themselves there is plenty to do. The Izmailovsky Kremlin is nearby and is great for getting inexpensive authentic Russian gifts. The Izmailovsky Park hides lots of cultural gems to see and experience. Going back to the Red Square is easy and a very short metro ride (Partizanskaya stop is a 2 min walk away).
The Best Western Vega Hotel Moscow city break package is available throughout the summer at the Russian National Tourist Office in London. For more information about the package please call +44(0) 207 985 1249.