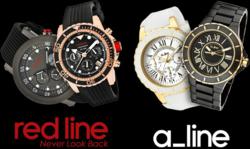 We were beyond thrilled to be included as official gift-bag sponsors at this year's BET awards,
Hollywood, Florida (PRWEB) July 24, 2012
Red Line and a_Line watches were official gift-bag sponsors at this year's BET Awards, held this past weekend in Los Angeles, CA. The SWI-manufactured brands are each known for their unique blend of classic and contemporary styling, and are relatively new—yet notable—names in the world of watch making.
In the days leading up to the event, BET hosted a luxury lounge and gifting suite for the show's performers, nominees and presenters, which allowed the stars to enjoy the gifts from sponsored brands, which included major names in the jewelry, sportswear, electronics, apparel and beauty industries. Red Line and a_Line watches were honored to be included in the round up, and gifted a quintessential mix of classic and contemporary styles from their signature lines.
"We were beyond thrilled to be included as official gift-bag sponsors at this year's BET awards," said Russell Ackner, vice president of marketing. "We are honored and flattered to be representing ourselves to the pacesetters of music, film and entertainment. It is an unbelievable opportunity to present our brand of high-quality, well-considered and affordable designs to such an influential group of style-makers."
The 2012 BET Awards were held on Sunday, July 1st at the Shrine Auditorium in Los Angeles. The event, as always, was a star-studded affair hosted by legendary screen actor, Samuel L. Jackson. Chris Brown, Kanye West, Jay-Z and Nicki Minaj all gave spectacular performances, while awards were presented by household names in showbiz, including Jamie Foxx, Tyler Perry, Quentin Tarantino, and Brandy. All these celebrities (and more) received fabulous timepieces by Red Line and a-Line watches.
Red Line and a_Line watches are both manufactured by the SWI Group. The fashion-forward watch collections were developed to offer watch lovers a statement-making timepiece option. Ideal for fashion-forward trendsetters, both Red Line and a-Line watches are an ideal fit for an awards ceremony that celebrates individuality and innovation in the world of entertainment.
Male guests and presenters received the Red Line Compressor (MSRP: $725). Meanwhile, female A-Listers were given the a_Line Pyar (MSRP: $595).
Highlighting the signature Red Line aesthetic, the Compressor makes a handsome addition to a man's watch collection. Sillicone styling and sporty features—including a 24-hour, day and date subdials—make the Red Line compressor a great statement accessory for fashion-forward men.
On the other hand, the a-Line Pyar boasts an oversized face, Roman numerals, leather strap, and a 60-second sub-dial, making it ideal for trendy women. Furthermore, the brushed stainless-steel face is perfectly on-trend for this summer's infatuation with grey-hued accessories.
###
About Red Line Watches:
For over 29 years Red Line watches has been a world-leader in the watch industry. Today, Red Line watches alongside it's sister line, a_Line watches, is renowned for cutting-edge design at affordable price points.
A second-generation, family-owned and operated business, Red Line watches is a flagship brand of the SWI watch group, based in Hollywood, Florida.
The SWI Group has been recognized in the Forbes 500 List of Companies (YEAR) and, for three consecutive years, has been featured in Inc. Magazine's list of Americas 500 fastest growing, privately held companies.
For more information on Red Line watches, visit http://www.redlinewatches.com
For more information on SWI, visit http://www.theswigroup.com