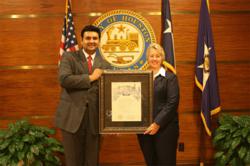 It is an inspiring and historical moment in our organization for Gov. Perry and Mayor Parker to acknowledge our progress and success
Houtston, TX (PRWEB) July 18, 2012
The 10th Annual National Convention of Beta Chi Theta was honored by Mayor Annise Parker with a proclamation congratulating the fraternity on its success becoming the youngest member to be accepted into the North-American Interfraternity Conference (NIC) in 2006, its stellar growth to 24 chapters with over 1200 members, and its over 20,000 hours of service in communities nationwide. The proclamation also commemorated the event by proclaiming July 14, 2012 as Beta Chi Theta Day in the host city of Houston.
Governor Rick Perry also joined in formally welcoming Beta Chi Theta to its 10th Annual National Convention and commended Beta Chi for its success. Gov. Perry stated in his greeting that "… you are continuing to forge a legacy of advancement and accomplishment; it is a legacy that will stand exemplary for generations to come."
Current National President Rahul Kapoor stated, "It is an inspiring and historical moment in our organization for Gov. Perry and Mayor Parker to acknowledge our progress and success. Our principles of brotherhood and networking are becoming so powerful that we will become one of the most influential organizations in the country with some of the most successful members in the world."
Former National President Mujteba Naqvi accepted the proclamation on behalf of Beta Chi Theta on July 14th and said, "It's an honor for our fraternity to be recognized by the city of Houston. While Beta Chi Theta came into being only 13 years ago, the successes and accomplishments we have achieved are truly extraordinary."
The 10th Annual National Convention took place over the July 13-15th weekend at the JW Marriott Houston. Over 165 brothers from around the nation gathered for national updates, policy discussion, elections, and to celebrate their national brotherhood.
About Beta Chi: Beta Chi Theta is a nationwide South Asian interest social fraternity founded on the pillars of Brotherhood, Tradition, Service to Humanity, South Asian Awareness, Academic Excellence, and Nationwide Network. After being established at University of California Los Angeles in 1999, Beta Chi Theta has quickly spread across the country and has grown to over 1200 brothers. The national philanthropy, Beating Heart Disease, raises money for the American Heart Association, increases heart disease awareness, and promotes a heart healthy lifestyle. For more information, visit http://www.betachitheta.org/about.