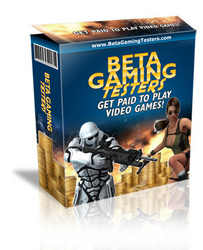 When I wrote this book, I actually chose the title 'How To Waste Time For Fun And Profit', but decided against it because there are too many scams online.
Los Angeles, CA (PRWEB) July 17, 2009
4 year veteran video gamer and industry insider, Tony "T Dub" Sanders, has released a new guide on getting paid to play video games.
His latest work, "Beta Gaming Testers" is the 7th book he published about the video games market, a 1.15 billion dollar industry.
"People ask me: 'You get paid to waste time all day?', and I say 'Yeah!'" Sometimes people misunderstand my job and don't think I'm really working, but it's actually serious work and game companies are willing to pay gamers because we enhance the game playing experience of the final product. To me, it's like unlimited game time because I enjoy what I do." Sanders said.
Tony's latest guide is a careful attempt to train all gamers, beginners or advanced, the most efficient way to get started in these stable video game jobs. His guide also educates the reader to identify real, legitimate opportunities from the fake "make money playing video games" scams propagating the internet today, calling them "enemies of the game".
"Around the world, there are more than 217 million people playing video games for an average of 4-6 hours a day (sometimes even more). But they don't get paid for it because most are clueless about the real career opportunities waiting for them in this industry. Having been in this industry for 4 years running, making a comfortable living playing video games is very doable." Sanders added.
Sanders represent "the new generation of business-savvy gamer who deciphered the needs and direction of the industry", according to several professional gamers. "In my industry, I watched very good gamers get rejected from game tester jobs because they don't understand the requirements. Truth is, the industry is not looking for better players. You don't have to be a highly skilled gamer to do well." Sanders continued: "It's about assisting the development process. My job lets me test the latest unreleased games from the best publishers. I play the best, and test the rest."
Clients cited Sander's published literature as dense, practical and a highly recommended companion manual for gamers of all ages, regardless of whether they intend to enter the video game industry.
A former hardcore gaming fan, Sanders competed in many gaming tournaments on a competitive level before venturing into game development. He uses his gaming experience from "playing thousands of games, some good, and some treacherous" to help companies improve the game play experience and engineer innovative features raved about by gamers around the world.
"When I wrote this book, I actually chose the title 'How To Waste Time For Fun And Profit', but decided against it because there are too many scams online." When asked how new gamers can avoid them, he added: "I've written enough about them on my video game tester website so gamers will never fall prey to the smoke and mirrors of the "make money playing games" business opportunities just like I did when I first got started."
Prices for similar information and job offer services on the internet ranges from $47.00 to $297.00 per month. "In my guide, I explain my insights of the industry's selection process and dive directly into how to get hired fast, get game time, and get paid so you never need to use other expensive services to get into this career. It's all about striking the right relationships and understanding the unspoken industry rules." Sanders emphasized.
It can be a positive change to the lifestyle as well. Among the perks of the job are free supply of game titles, long gaming time, and the envy of friends who work a 9 to 5 job. Or as Sanders will say: "Your kids will be sickened to watch you play games all day when they come back from school with homework."
For additional information on "Beta Gaming Testers" and other gaming products, visit Tony's website at http://www.betagamingtesters.com to discover how you can get into a video game career even if you have no college education, no prior experience, or superior gaming skills.
# # #