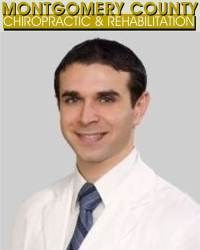 I have my patients to thank for making me happy to come to work every day. It's exciting to be taking the next step in creating a truly multidisciplinary clinic…
Bethesda, MD (PRWEB) April 02, 2013
Chiropractor Cory Aplin and his team at Montgomery County Chiropractic and Rehabilitation first began serving the Bethesda, MD and Washington, DC communities in January 2011. Since that time, they have helped hundreds of patients find relief from pain and achieve their personal health and fitness goals. The practice will move into larger office space later this week.
Asked what this move will mean for patients, Dr. Aplin is quick to point out the benefits of both continuity and change. "While the new office is only about a half mile from the existing one, we've been able to add three additional treatment rooms plus expand our exercise and rehabilitation area. This is allowing us to add physical therapy services to the practice in addition to the traditional chiropractic treatment. We've also expanded our hours, allowing us to help more people and making it easier for them to get a treatment time that fits their busy schedule."
The current office location will be closed on April 4th and 5th, and the new office will open on April 8th. Dr. Aplin will host an Open House on April 6th between 11:00 AM and 4:00 PM to give patients and other friends of the practice an opportunity to tour the new space and to be part of a Grand Opening celebration that will include food, refreshments and a raffle. People interested in attending should visit the Montgomery County Chiropractic and Rehabilitation website for more details.
Dr. Aplin sees the new office as part of a natural evolution for his practice. "I couldn't be happier with the upcoming move. To see my practice grow in such a short amount of time has been a true blessing, and I have my patients to thank for making me happy to come to work every day. It's exciting to be taking the next step in creating a truly multidisciplinary clinic where patients have instant access to multiple providers, all sharing a common goal of getting them out of pain."
About Montgomery County Chiropractic and Rehabilitation
Montgomery County Chiropractic and Rehabilitation has been serving patients from Bethesda, MD and the greater Washington DC area since January 2011.
Montgomery County Chiropractic and Rehabilitation
6931 Arlington Rd
Ste T200
Bethesda, MD 20814
(301) 979-9290
http://mocochiropractic.com
Follow Montgomery County Chiropractic and Rehabilitation on Facebook.