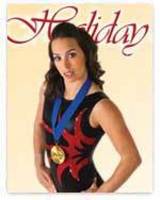 These Solid Gold leotards are a few of my favourite things for the Holidays
London, England (PRWEB) December 3, 2009
Elite International (UK), the official Supplier of GK and adidas brand gymnastics apparel in the United Kingdom, announces an endorsement agreement with UK Gymnastics superstar, Beth Tweddle. This endorsement will usher in a new series of Beth Tweddle Leotards available in the UK beginning in early 2010.
Beth Tweddle's Favourites for the Holidays
Just in time for the holidays, Beth Tweddle chose 5 of her favorite GK leotards from GK's 2009-2010 In-Stock Catalog as her Solid Gold Favourites. Each of the styles include sparkling jewel accents to help the athlete shine. Athletes may purchase them online at:
http://www.gkelite.com/BethTweddle.html
"These Solid Gold leotards are a few of my favourite things for the Holidays," remarked gold medalist Beth Tweddle. "All of them feature beautiful styling and sparkling jewels. They're brilliant and make great holiday gifts. Happy Christmas!"
"Elite International is thrilled to be able to endorse the Beth Tweddle range, after her phenomenal success at the O2 Arena," noted Elite International (UK) President Jean Stocks. "We look forward to continuing our association to London 2012." She added, "we're always happy to visit you at your club to show the full range of GK and adidas products - give us a ring on 01827 717703 to book the Elite International Road Show."
Elite International (UK) has been a family run business for 25 years, with a wealth of experience in gymnastics. Based in Atherstone, Warwickshire, the company recently moved into new and larger premises, to cater to the ever increasing demand for GK and adidas products in the UK.
Elite Sportswear, LP (GK) is the world's leading supplier of gymnastics apparel and is recognized around the world for superior variety, quality, fit and service. GK is the sole producer of adidas® brand gymnastics apparel worldwide. Based in Reading, Pennsylvania, Elite Sportswear, L.P., the company behind the GK brand, continues its commitment to quality and continuous innovation in designs for Gymnastics, Cheerleading, Dance, and Drill Team apparel.
For more information about Elite Sportswear visit http://www.gkelite.com/uk
For more information about Beth Tweddle, visit http://www.bethtweddle.com
###