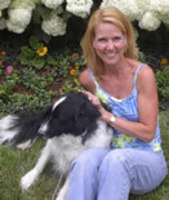 Kansas City, MO (PRWEB) September 13, 2010
Almost ten years ago, Betsy Medina had to say the words no one wants to say. "I have breast cancer." For her, saying these words to loved ones was harder than actually having breast cancer. With support from friends and family, months of treatment, countless doctor's visits, several surgeries, months of sickness and a positive attitude, Betsy beat cancer and is celebrating almost 10 years of being cancer-free.
Betsy had an incredible support system including her co-workers at Indigo Wild, a Kansas City company that makes all-natural aromatherapy products for the body and home. To support Betsy, Indigo Wild created a line of products in Betsy's name where a portion of sales go to organizations that support breast cancer patients and survivors.
The Betsy Bar is an all-natural handmade soap made with goat's milk and pure essential oils of lavender and lemon. A dollar from each Betsy Bar sold goes to
Turning Point: The Center for Hope and Healing. Turning Point empowers and inspires families living with cancer or other serious or chronic illness. Its unique, life-changing education and support programs are offered at no charge to participants.
Betsy Body, a lotion made with shea butter, meadowfoam seed oil and pure essential oils lavender-lemon, does more than moisturize skin. For every bottle of Betsy Body sold, Indigo Wild donates 25% of sales to Back In the Swing, a non-profit organization that helps breast cancer survivors improve and protect their health after cancer.
Betsy Bar - $5.50
Betsy Lotion - $16.50
A few facts about breast cancer and Betsy:

According to the American Cancer Society, excluding skin cancers, breast cancer is the most common among women, accounting for 1 in 4 cancers diagnosed to US women.
For women in the U.S., breast cancer death rates are higher than those for any other cancer besides lung cancer.
The National Cancer Institute estimates there will be 207,090 new cases of breast cancer in 2010.
As of 2008, there are about 2.5 million women in the U.S. who have survived breast cancer.
A side effect of chemotherapy is dry, itchy skin. The Betsy Bar and Betsy Body lotion are completely natural ways to moisturize and balance dry skin.
Betsy has been working for Indigo Wild for 14 years and was the first employee of Indigo Wild.
About Indigo Wild:
Based in Kansas City, Missouri, Indigo Wild has been producing all-natural products infused with good karma for the body and home since 1996, including the wildly popular Zum line. Never tested on animals, the Zum line includes numerous all-natural products and blends: lotions, soaps, candles, body rubs, bath salts, aromatherapy sprays, baby products, dog products, laundry soaps, household cleaning products and more. Indigo Wild's Zum products are available online at indigowild.com, by phone at 1-800-361-5686, and at specialty boutiques and natural food stores nationwide.
###