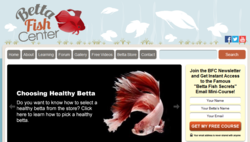 "My desire was to get the most accurate betta care information out there so people can enjoy their bettas for a long time."
Henderson, Nevada (PRWEB) June 12, 2013
Betta Fish Center announces the much-anticipated release of its brand new website http://www.bettafishcenter.com. The site has been the brainchild of betta enthusiast Adam Short, and after several years of planning, the release is finally here.
Short, CEO of Yellowbird Publishing, a trusted worldwide authority in providing products to improve health, financial, relationship and personal well-being, has a reputation for filling a need in the industries with which he has influence. And with more than 20 years of experience caring for and keeping betta fish, he turned his valued hobby into a fun and information-packed resource betta owners can utilize to help raise their bettas to be happy and healthy.
When asked what the primary reason was behind re-designing this website, Short said, "There is so much misinformation on the web about taking care of betta fish, and because betta owners don't know the truth, their fish die or get sick prematurely. My desire was to get the most accurate betta care information out there so people can enjoy their fish for a long time."
Betta Fish Center is not only an educational resource for betta owners, but also a place where people can interact and discuss their betta care questions, answers and problems. The all new betta forum is a community where people can discuss topics such as betta diseases, aquarium setup, where to purchase bettas, and any other betta fish care topic. In addition, new, inexperienced betta owners can ask experienced enthusiasts questions and receive knowledgeable answers that will help keep their betta alive and disease free.
Short explains, "It was very important for me to create an entire betta community where people could not only watch informational videos, read educational articles and see beautiful betta images, but also ask questions and get answers. Betta owners love their fish and they are dedicated to keeping them happy and healthy. With the right information, this can become a reality. Betta Fish Center has made it possible for betta owners to come and share their experiences so they can learn from each other."
This is just the beginning for Short and his website, Betta Fish Center. The betta expert plans on releasing more videos, articles, and helpful guides within the next few months. He also offers a free mini-course on his website and rewards his newsletter subscribers with free information, live webinars and helpful advice on how to raise healthy betta fish.
About Betta Fish Center:
Betta Fish Center (http://www.bettafishcenter.com) is the leading betta fish care resource on the web. It provides hundreds of informational videos and articles, as well as a thriving community where betta owners interact and get answers to their questions.