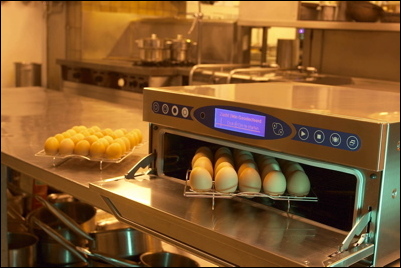 Vermilion, OH (Vocus) April 12, 2007
Bettcher Industries, a leading worldwide manufacturer of equipment for food processing and foodservice operations, has acquired the assets of Leda Technologies, a developer and manufacturer of intelligent food safety products used for the pasteurization, preparation, preservation and presentation of shell eggs.
A newly-formed Bettcher Industries subsidiary - Leda Technologies, GmbH - purchased the assets of Leda Technologies from CADS, bvba. Headquartered in Switzerland, the new company is also continuing existing operations at its Antwerp, Belgium manufacturing and demonstration facility.
Leda Technologies is the developer of a patented point-of-use pasteurization system used in commercial kitchens and on breakfast buffet lines that is capable of eliminating salmonella and avian flu in shell eggs. The technology enables eggs to be pasteurized in the shell and safely stored for long periods of time. No other point-of-use technology is available that eliminates the presence of foodborne illness in shell eggs.
Leda Technologies' Pollux appliance pasteurizes up to 60 eggs at a time while retaining the eggs' composition, raw cooking properties and nutritional value. Pollux units can also pasteurize and cook the eggs in one process - based on 14 cooking menu options - and store them at the correct consumption temperature for up to five hours without further coagulation or yolk discoloring. Pre-programmed settings allow food preparers to easily and accurately determine to what extent the egg whites and yolks should coagulate.
Two Pollux models are offered by Leda Technologies. One can pasteurize and cook up to 60 eggs at a time and is appropriate for most restaurant kitchens. A larger model can pasteurize and cook up to 360 eggs at a time, making it a good choice for large-scale institutional foodservice operations.
The properties of raw eggs processed by Pollux units are indistinguishable from fresh raw shell eggs, making them ideal for use in foodservice operations preparing eggnog, mayonnaise, salad dressings, tiramisu, mousse, and other foods that use raw or partially-cooked eggs. The equipment has been independently tested and certified to kill 99.99999% of all bacteria inside shell eggs, while not affecting the eggs' composition, appearance, nutritional value, taste, or cooking properties.
Another Leda Technologies product -- the Castor appliance -- keeps up to 30 eggs safe and warm for the duration of a full breakfast, without yolk discoloring or further coagulation. In addition to its food-safe warming qualities, the attractive appearance of the Castor model makes it ideally suited for use on breakfast buffets.
Since their market introduction in 2002, the Pollux and Castor appliances have been recognized for their breakthrough design and functionality. This includes receiving a 2006 Mercury Award from the International Travel Catering Association, the INHOGA Innovationspreis awarded in Berlin in 2006, plus two CATEX awards received from the Irish Catering Association in 2003.
According to Brian Feiten, Director of International Sales, the acquisition of Leda Technologies adds an important new category to the foodservice equipment lineup available from Bettcher Industries. "We see the market for pasteurized eggs growing internationally - both because of heightened food safety concerns as well as expanding menu options. The appeal is no longer limited strictly to European and Asian markets. Moreover, the intelligent food safety aspects of Leda products fit perfectly with our focus on manufacturing HACCP-compliant equipment that delivers safety and peace-of-mind to consumers." Feiten reported that the company is actively seeking new distribution partners to help market Leda products to healthcare and institutional foodservice professionals in addition to the restaurant and hospitality segments. One segment of particular interest is chain hotel and restaurant operations that feature breakfast fare.
For more information on Leda Technologies' food safety equipment, visit http://www.leda.be.
Established in 1944, Bettcher Industries brings more than five decades of successful innovation to the food processing and foodservice industries. The company is a leading developer and manufacturer of innovative precision cutting tools, as well as a variety of products including the Whizard® Power Knife and Optimax™ batter-breading machines used in restaurants and other foodservice operations. Headquartered in the United States, Bettcher Industries is an ISO 9001-certified company with manufacturing, distribution and service in more than 50 other countries throughout the world.
# # #