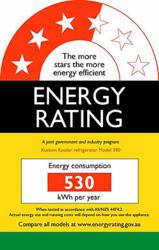 By understanding how they are using electricity in their homes and businesses, Australians will discover a myriad of ways to reduce their electricity consumption
(PRWEB) July 25, 2012
Australian gas and electricity comparison service, Electricity Wizard, has recommended consumers consider their lifestyles when they look at their next electricity bill. While the introduction of the carbon tax will add around 9% to their electricity accounts, there are other contributing factors, the company believes, over which consumers have some control.
"Queensland's Energex has just shared some sobering statistics for lifestyle choices that will impact a consumer's electricity consumption" explained Electricity Wizard CEO, Alan Belkin. "And while infrastructure costs and the carbon tax are major factors in increasing electricity costs, people should be cognizant of other contributing factors - the ones over which they have control."
The Energex data shows that electricity usage has risen by 30 percent in the last ten years. Contributing to this: 25 percent of Australian households purchase a new television every year, and that 41 percent of homes have at least two plasma, LCD or LED televisions - many of which are not switched off at the power point, but are on 'all of the time'.
As well, regional Queensland homes have, on average, three air conditioners installed, and each year the country's residents spend millions of dollars to charge their computers and mobile devices.
"By understanding how they are using electricity in their homes and businesses, Australians will discover a myriad of ways to reduce their electricity consumption, and, as a result, their electricity bills" said Mr Belkin.
"However, by refusing to accept the 'inevitability' of electricity price rises, and comparing service providers, they will take possibly the biggest step towards getting better electricity prices" he continued.
Mr Belkin believes that is the consumers who shrug off such apathy, and use those computers or mobile devices to contact Electricity Wizard, who will be making a lifestyle choice that saves them money every single day.
To see how Electricity Wizard can help with getting better electricity prices, visit ElectricityWizard.com.
About Electricity Wizard
Electricity Wizard's mission is to provide Australians with an easy way to get a better deal on their energy bills. It is dedicated to providing Australians with a free service which allows them to source a better deal for their energy bills in just a few minutes.
The Australian gas and electricity market is one of the most competitive in the world - with dozens of companies, making it extremely difficult to know if you're choosing the right plan for you.
Electricity Wizard's mission is to provide an easy way to find a better deal in your area. Its free comparison service has been used by over 50,000 Australians to compare rates and plans, and get a deal that best meets their needs.
When consumers contact Electricity Wizard, one of their friendly Australian staff will assess their current rates and plan, and recommend better options for their home or business from their range of preferred partners.
Best of all, the service is completely free. To find a better deal on your energy bills, in minutes, visit electricitywizard.com.au