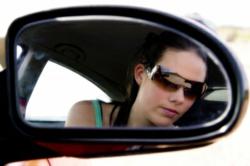 Sadly young and newly qualified drivers are at much higher risk of having a crash
(PRWEB UK) 12 April 2013
The Department for Transport recently revealed Government proposals to launch a Green Paper on improving safety and reducing risks to young drivers.
The Green Paper, to be published later this year, will look at a range of options to improve the safety of newly qualified and young drivers. Some of the proposals the paper will be putting forward for consideration are:

A minimum learning period before new drivers are permitted to take their test.
Allowing learner drivers to take lessons on the motorway and in darkness.
Making the driving test more rigorous to better prepare learners to drive unsupervised.
Incentivising young drivers to have additional training after passing their test.
Along with these proposals, the Government is also giving consideration to imposing temporary restrictions on newly qualified drivers which will be included for debate at the time when the paper is published.
Given that, if these proposals are accepted, it will improve the safety of new and young drivers, it is thought that this will also result in a reduction in young driver's car insurance.
Transport Secretary Patrick McLoughlin said:
"It is alarming that a fifth of people killed or seriously injured on our roads in 2011 were involved in a collision where at least one driver was aged 17-24. Improving the safety of our young drivers is therefore a real priority and will not only reduce casualties but should also mean a reduction in the sky-high insurance premiums they pay."
Andrew Goulborn, Commercial Director for car insurance comparison site Tiger.co.uk, commented:
"Sadly young and newly qualified drivers are at much higher risk of having a crash and that is reflected in their car insurance premiums. These proposals present an opportunity for them to reduce their premiums once qualified, and, importantly, become safer drivers. We work with many insurance companies that currently offer discounts on car insurance if advanced driving courses have been completed successfully and would no doubt be happy to reflect the introduction of more rigorous driver training in the pricing of premiums."
About Tiger.co.uk:
Tiger.co.uk is a trading name of Call Connection Ltd. Tiger.co.uk is a UK based, independent car insurance comparison site, offering insurance quotes from over 150 motor insurance brands. Call Connection Ltd is authorised and regulated by the Financial Services Authority (number 308374).