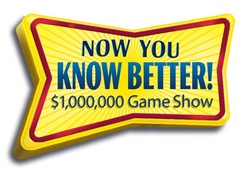 This over-the-top Now We Know Better campaign is the combination of entertainment, great humor and the infusion of overall health messages
ENGLEWOOD CLIFFS, N.J. (PRWEB) January 22, 2008
Hosted by comedian, actor, NY Times best-Selling author, and quintessential game show host John O'Hurley ("Seinfeld," "Dancing with the Stars,"), the new online sweepstakes game allows players a chance to be rewarded for how much "better" they know now, and then register to enter for a chance to win the $1,000,000 Grand Prize.
Beginning in February, the sweepstakes game will feature live play cameos with "know better" celebrities Gary Coleman, Jose Canseco and Dustin Diamond, who confess to having moments where they should have known better.
Players will be pitted against four others worldwide in a timed competition to answer trivia questions from the 1950s to present day. A five-round matching quiz will test their mettle on topics ranging from U.S. History to fashion to movies, health and literature. O'Hurley's live character introduces each round and spices it up with witty and decade-appropriate commentary such as, "fo' shizzle my nizzle," "you're a cool cat," and "you're cruisin' for a bruisin'" when contestants respond with the right or wrong answers, respectively. O'Hurley also looks the part as he dons a wardrobe appropriate for each time period, including a powder blue leisure suit for the 50s, peace medallion for the 60s and a wide lapel jacket for the 70s.
Contestants can also select an animated online personality and screen name and hold real-time chats with other contestants. Every player has an opportunity to enter up to five times per day into the $1,000,000 Sweepstakes. For each of the five rounds you play, you will receive one entry into the Finalist Sweepstakes Drawing, once you complete the registration form. And for every friend the contestant tells, who later registers, they will receive one additional entry. So, the more you play and tell, the more chances you have to win instant prizes and perhaps even $1,000,000! Entrants can come back each day to play the game and receive up to five entries into the Finalist Sweepstakes Drawing!
The online Now You Know Better! $1,000,000 Game Show is part of I Can't Believe It's Not Butter!(R)'s new, multi-tiered Now We Know Better campaign, designed to communicate that we don't have to rescind fresh butter taste to live a healthy lifestyle. The campaign showcases how we have progressed through the decades and illustrates the things in the past we now know better about - everything from sunbathing to slathering butter on our food. I Can't Believe It's Not Butter!(R) Original soft spread is made with a blend of nutritious oils, so it is an excellent source of essential Omega 3 ALA. It also contains 0g Trans Fat, and 70 per cent less saturated fat than butter. The American Heart Association recommends consumers select margarine containing less than 2 grams of saturated fat per serving and are labeled as zero Trans Fat per serving.
"This over-the-top Now We Know Better campaign is the combination of entertainment, great humor and the infusion of overall health messages," says actor and comedian John O'Hurley. "It has been fun to work on a project committed to educating people about living a healthy lifestyle, while at the same time becoming the 'Know Better King'."
Only one person could become an instant millionaire, but there are more than $40,000 in prizes up for grabs during the Sweepstakes, including spa weekend getaways, chef's aprons and premium kitchen equipment. Also available at http://www.NowYouKnowBetter.com are delicious recipes and instant-print coupons for I Can't Believe It's Not Butter!(R)
The $1,000,000 grand prize finalist will be selected randomly on or about April 7, 2008, from among all eligible Finalist Sweepstakes Drawing entries received. As a finalist, he/she will have won a four-day/three-night trip for two (2) to New York to attend the Grand Prize Event, with $500 in spending money. At the Grand Prize Event, the finalist will play one more game to hopefully become the winner of the $1,000,000 Grand Prize.
The Now You Know Better! $1,000,000 Game Show is open to legal residents of the 50 United States and the District of Columbia 18 years of age or older. Players can enter a maximum of five times into the sweepstakes per day. The final grand prize of $1,000,000 will be awarded in the form of a 25-year annuity of $40,000 per year for 25 years.
About Unilever:
Unilever (NYSE: UL, UN), one of the world's largest consumer products companies, aims to add vitality to life by meeting everyday needs for nutrition, hygiene and personal care. Each day, around the world, consumers make 150 million decisions to purchase Unilever products. The company has a portfolio of brands that make people feel good, look good and get more out of life.
In the United States these brands include recognized names such as: Axe, "all," Ben & Jerry's, Bertolli, Breyers, Caress, Country Crock, Degree, Dove personal care products, Hellmann's, Lipton, Knorr, Popsicle, Promise, Q-Tips, Skippy, Slim-Fast, Snuggle, Suave and Vaseline. All of the preceding brand names are registered trademarks of the Unilever Group of Companies. Dedicated to serving consumers and the communities where we live, work and play, Unilever in the United States employs approximately 15,000 people in 66 office and manufacturing sites in 24 states and Puerto Rico- generating more than $9 billion in sales in 2005. For more information, visit http://www.unileverusa.com.