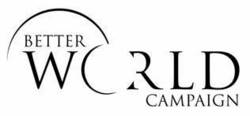 Heather's experience working with the national press on international and congressional issues will be an invaluable asset to the BWC team
Washington, D.C. (Vocus) September 15, 2009
The Better World Campaign, today announced that Heather Wong has joined the BWC as Director of Communications.
"Heather's experience working with the national press on international and congressional issues will be an invaluable asset to the BWC team," said Peter Yeo, BWC Executive Director and Vice President for Public Policy at the BWC's sister organization, the United Nations Foundation. "We look forward to advancing BWC's outreach and advocacy agenda through the media in support of strong U.S.-UN relations."
"I am very excited to join the Better World Campaign at such an important time in history. I look forward to the important task of encouraging a stronger relationship between the United States and the United Nations, and showing how the work of UN's peacekeeping, climate and humanitarian efforts foster our nation's and the world's stability," said Wong.
Prior to joining the BWC, Wong served as spokesperson for international affairs and terrorism and financial intelligence issues at the U.S. Department of Treasury. She also spent several years on Capitol Hill as Press Secretary to the House Financial Services Committee and Chairman Barney Frank, where she worked to develop and implement media strategies dealing with the financial crisis.
Wong has also held roles as Communications Director to Congresswoman Zoe Lofgren and the California Democratic Congressional Delegation, and as Deputy Press Secretary to Senate Governmental Affairs Committee. She began her career on California Governor Gray Davis' re-election campaign, and has also spent time working in the non-profit sector at the American Red Cross.
Wong holds a bachelor's degree in Mass Communications from the University of California, Berkeley, and a master's in Politics and Communications from the London School of Economics and Political Science.
About the Better World Campaign
The Better World Campaign (BWC), an initiative of the Better World Fund, works to strengthen the relationship between the United States and the United Nations. It encourages U.S. leadership to enhance the UN's ability to carry out its invaluable international work on behalf of peace, progress, freedom and justice. For more information, visit http://www.betterworldcampaign.org.
Press Contacts:
Katherine Miller, United Nations Foundation, (o) 202.887.9040