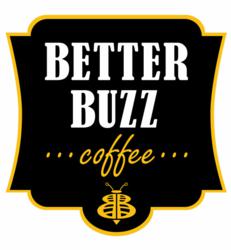 1 in 4 children and 1 in 5 adults in San Diego do not know where their next meal is coming from.- Feeding America
San Diego, CA (PRWEB) October 30, 2012
Better Buzz Coffee's extensive track record of local outreach alone, testifies to its belief in giving back to their community. The founders of Better Buzz Coffee have experienced that corporate coffee giants and other outsourced services just don't seem to meet the same quality care of products made by a local coffee roaster that can benefit their very own homegrown coffee addicts. For example, responsibly sourcing coffee that benefits the families and local communities, in which it's grown, or the fair trade and organic whole bean coffee that is only roasted fresh, catering to the many coffee connoisseurs that crave a 'better buzz'.
Being voted one of the best coffee shops in San Diego for 2012 in the San Diego A-List affirms that the buzz on this company is not just self-proclaimed. With the dedicated 'buzzers' they have acquired over the years, it seemed only fitting that they would step in as the host of this food drive to help replenish Feeding America's San Diego supply in the wake of Hurricane Sandy.
Hurricane Sandy is predicted to be one of the largest storms on record history. "We are looking at the highest storm surges ever recorded" in the Northeast, said Jeff Masters, meteorology director for a private forecasting service, Weather Underground. The storm has already sped up, as predicted, lashing out against vulnerable areas from Maryland to New York under the shroud of Monday night, leaving the nation to assess the damages and pick up the pieces this morning. A never before seen 13 foot wall of seawater, 3 feet above the previous record, tore into Gotham choking through tunnels, subway stations and the electrical system that powers Wall Street, and sent hospital patients and tourists scrambling for safety. Don't be fooled by the strangely, yet always sunny October, taking place in San Diego; The residence are not naïve to the needs of Feeding America and other crisis organizations that will soon face the wintery East Coast, in addition to their unabated workload on the Californian home front.
What makes Feeding America different from other non-profit organizations is also what makes this drive different from the rest. Because of Feeding America's impressive efficiency as a food bank, dollars donated actually go much farther than already purchased food items. In fact, for every $1 donated, they're able to provide 6 (That's six!) round meals to families in need. As the nation's leading domestic hunger-relief charity, their network members supply food to more than 37 million Americans each year, including 14 million children and 3 million seniors.
1 in 4 children and 1 in 5 adults in San Diego do not know where their next meal is coming from. Of its 3.1 million residents, more than 446,000 people live below the poverty level. This equates to a household income of less than $22,350 for a family of four. But with eight people being fed for only a dollar, Better Buzz patrons are all too happy to be a part of this difference-making organization. That's why San Diegans are invited to drop off both funds and food during the "Better Buzz Holiday Food & Funds Drive" at their Pacific Beach and San Marcos location now through December 16th.
If interested in giving back to the San Diego community, drop off spare dollars and/or previously purchased non-perishable items to either one of their 2 convenient location drop off centers:
Better Buzz Coffee San Marcos
904 W. San Marcos Blvd.
San Marcos, CA 92078
Better Buzz Coffee Pacific Beach
1909 Garnet Ave.
San Diego, CA 92109