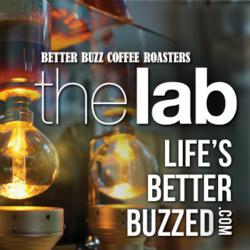 It's so great to see San Diego stepping it up in the coffee industry. For too long, this city has settled on anything and everything mediocre. - Anonymous
San Diego, CA (PRWEB) January 10, 2013
Better Buzz Coffee is a San Diego-based micro-roaster of gourmet coffee, hand selecting their coffees -many of them fair trade, organic, and even rainforest alliance- from around the globe with one thing in mind: How to create a delicious buzz without compromising quality.
This coffee roaster is growing faster than ever in its stomping grounds of San Diego and has high aspirations to usher the San Diego coffee drinker into a fully geeked-out love for Coffee. With theLab's state-of-the-art coffee toys like glowing coffee syphons, life size cold brew systems, and two separate coffee bars in the 35-seat coffee lab, such a standard of coffee love will be hard to resist.
Nation foodie resource, Eater has taken notice.
"Eater is the source for people who care about dining and drinking in the nation's most important food cities. A favorite of industry pros and amateurs alike, Eater has an uncanny knack for finding out what's opening where, who's serving what, and how it's all going down. Since its launch in New York in 2005, Eater has opened its doors in 16 more cities around the country," its website reports.
Its latest spotlight on Better Buzz Coffee's theLab explains, "theLab will feature two coffee bars— the main bar will dispense coffee drinks, including salted caramel lattes and their Killer Bee (coffee topped with a double or triple espresso) while the other bar will be dedicated to the art and science of coffee, educating about coffee cupping and espresso extraction and demonstrating latte art techniques."
"In addition to their custom pour over's and coffee siphons, [the café owner,] Langdon's particularly excited about theLab's cold brew system, comprised of special, hard-to-find equipment from Japan, which will drip three liters of coffee each 20 to 24 hour period. [That's one drip every 10 seconds!] Better Buzz will make four kinds of cold brew and bottle it to-go."
The Daily Coffee News, a project of Roast Magazine, provides daily news, resources and information for professionals throughout the specialty coffee industry. Recently it, too, caught wind of Better Buzz Coffee's theLab opening in San Diego and reported to its readers. When a retail coffee concept like a fully functional state of the art coffee laboratory hits the scene, everyone from the average latte lover to the single origin espresso connoisseur to the professionals who make their everyday living in the coffee industry (who Roast Magazine speaks to) are influenced and affected.
View full articles here:
The Eater
http://sandiego.eater.com/archives/2013/01/07/cuttingedge-coffee-coming-to-pacific-beach.php
Daily Coffee News by Roast Magazine
http://dailycoffeenews.com/2012/12/07/san-frans-better-buzz-to-open-retail-coffee-lab-in-mission-beach/
To view more pictures of Better Buzz Coffee and theLab visit their Instagram