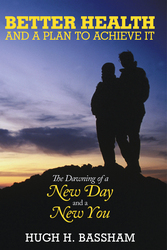 As a veterinarian, I have learned much from the animals I worked with (Job 12:7)
Quitman, GA (Vocus) November 10, 2010
Proper diet. Exercise. Taking things in moderation. All of these things are necessary to maintain optimum physical health, and the American quest for weight loss and fitness is never-ending. But the body must be viewed as a whole, and it's important to remember the connection between physical and spiritual health. How do you work to simultaneously improve both? One book can show you how, and it's called Better Health and a Plan to Achieve It: The Dawning of a New Day and a New You (published by CrossBooks), by Dr. Hugh H. Bassham.
A plethora of books are available which offer tips and strategies for cultivating a healthier lifestyle, and inspirational self-help books designed to enrich and reinforce a relationship with God line bookstore shelves in droves. Recognizing the need for a resource that combined the two endeavors, Bassham set out to revisit his two previous works, The Search for Total Health (1993) and A Plan for Better Health (2007). His revision culminates in Better Health and a Plan to Achieve It, a comprehensive, up-to-date guide to living a truly healthy life.
At just under 100 pages, Better Health and a Plan to Achieve It draws inspiration from Bassham's personal and professional experiences. "As a veterinarian, I have learned much from the animals I worked with (Job 12:7)," he writes. "And the more I learned from the animals, the more I realized I could apply this knowledge to people."
Five concise chapters outline the concept of total health and discuss the different techniques for nourishing the inward and outward self, and Bassham stresses the importance of helping animals and plants stay healthy. His "Parable of the 3-Legged Stool" will resonate with readers on their own quest to improved well-being. Find out more in this revelatory new book.
About the Author
Hugh H. Bassham, DVM, graduated from the Auburn University College of Veterinary Medicine, taught at the University of Georgia College of Veterinary Medicine and is a member of the Georgia Veterinary Medical Association. He currently works for the Georgia Department of Agriculture. Bassham has conducted nutritional research, co-authored several papers and spoken at national and international conventions. For more information, visit http://www.BetterHealthAndAPlanToAchieveIt.com.
About CrossBooks
Launched in spring of 2009 by LifeWay, one of the world's largest providers of Christian products and services, CrossBooks is a Christian publishing company that blends the best attributes from self-publishing and traditional publishing. Adhering to an unwavering principle of excellence and faith, CrossBooks provides an avenue for more Christians to support their ministries and share their stories around the globe. For more information, visit http://www.crossbooks.com.
# # #