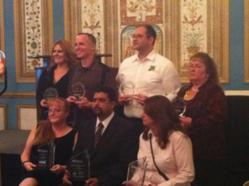 It is very exciting to just be nominated and see all of our materials displayed in Las Vegas
Las Vegas, NV (PRWEB) October 21, 2011
St. Louis-based green house cleaning company Better Life Maids could potentially won 2 Image Awards from the Association of Residential Cleaning Services International. Winners were announced on October 20 at the 2011 ARSCI Cleaning Convention in Las Vegas. Better Life Maids was a finalist for five awards:
1) Best Logo
2) Best Uniforms
3) Best Vehicles
4) Best Newsletter
5) Best Branding/Marketing
The ARCSI Image Awards are voted on by members at the annual Cleaning Convention. Nominees in each category have been narrowed to the top three finalists. Better Life Maids was selected as a finalist in all but one category of the Image awards. Better Life won an Image Award for best uniforms and best vehicle marketing.
"We are extremely proud to have been recognized by our peers for the marketing and creative we have developed for our brand. It is very exciting to just be nominated and see all of our materials displayed in Las Vegas for the other members to vote on." Said Matthew Ricketts the President and Chief Experience Officer of Better Life Maids.
Better Life Maids offers green house cleaning to its clients in St. Louis and is expanding into new markets through a national franchise expansion model. Better Life Maids uses the entire line of Better Life natural household cleaning products that are carried coast to coast in Whole Foods Markets.
About the Association of Residential Cleaning Services International
The ARCSI is is the only non-profit trade association dedicated to advancing the home cleaning industry. Members of ARCSI come together to network and share ideas to learn how to improve and grow their own company as well as, improve over all conditions in the entire industry as a whole. Established to represent professionals in the home cleaning industry, ARCSI provide business owners in the residential cleaning industry opportunities to come together to share ideas, information, and experience. For more information, visit http://www.arcsi.org.
About Better Life Maids
Better Life Maids is a green house cleaning service founded in St. Louis, MO. Better Life Maids is seeking to grow in select markets through a franchise development program, as well at the addition of new company owned units. Better Life Maids has partnered with Better Life a green household cleaning products company to help create the first national green product and service brand. For more information, visit http://www.betterlifemaids.com or http://www.cleanhappens.com.
###