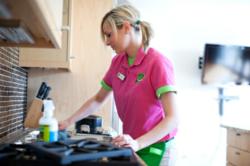 A few fun decorations can really liven up a room for the holidays.
Saint Louis, MO (PRWEB) October 14, 2011
The purpose of National Kitchen and Bath Month is to make homeowners aware of the benefits both rooms and provide, and perhaps encourage them to make improvements. Whether or not homeowners have made a decision of a full remodeling, or of a new appliance or two, green house cleaning company Better Life Maids offers four fast ways to get started without wasting tons of time or money:
1. Seasonal Decorations – Autumn and Halloween are just around the corner, so switch out the towels and mats for something fall-themed, or add a small pumpkin for looks. Take this one step further by purchasing some fall-themed hand soaps to go with the sinks.
2. De clutter – Are there appliances or supplies that are just in the way and not serving any purpose? Find a place for them. If there's really no need for them, then give them away or donate them. Purchasing a storage bin might be necessary if those appliances or supplies are still needed.
3. Improve the Lighting – Sometimes, a little light can make all the difference. Open up the curtains to let natural light in. Change any light bulbs that seem dim, or clean the lights themselves. If space permits, add a light fixture or two.
4. Plants – A plant can do wonders for a room. This one may scare people, since some folks are afraid of killing a plant, but ivy is a good hardy plant that's perfect for those who don't want a green thumb. If unsure about getting a plant and how to take care of one, speak with someone at the greenhouse or the home improvement store for ideas.
"A few fun decorations can really liven up a room for the holidays." Said Angela Ricketts the Vice President of Client Experience for Better Life Maids. "Also spending a day de cluttering and getting rid of items you no longer use, can make a room functional again."
Better Life Maids is a St. Louis-based green home cleaning company that is expanding into new markets through a national franchise expansion model. Better Life Maids uses the entire line of Better Life natural household cleaning products, which are carried coast to coast in Whole Foods Markets.
October is almost halfway over, but there's still plenty of time for homeowners to do something special. A green home cleaning is the simplest and easiest way to celebrate, as the only finger that needs lifting is the one that calls us. If interested in doing something this month for National Kitchen and Bath Month, visit http://www.betterlifemaids.com/content/show/61149, or call (877) 624-3846, to get a free, instant green house cleaning estimate.
About Better Life Maids
Better Life Maids is a green house cleaning service founded in St. Louis, MO. Better Life Maids is seeking to grow in select markets through a franchise development program, as well at the addition of new company owned units. Better Life Maids has partnered with Better Life, a green household cleaning products company, to help create the first national green product and service brand. For more information, visit http://www.betterlifemaids.com or http://www.cleanhappens.com.
###