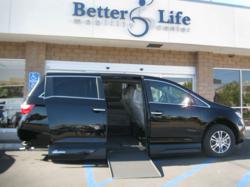 San Diego, CA (PRWEB) May 24, 2011
Better Life Mobility Center, a leading California-based retailer of vehicles, wheelchairs and lifts for the mobility industry, announced the redesigned 2011 Honda Odyssey with the innovative Vantage Mobility International Northstar and Summit conversions is now in-stock and available for purchase. Better Life Mobility is among the first retailers in the country with the popular new Honda Odyssey in stock.
"VMI has done a remarkable job with their redesigned 2011 Honda Odyssey," said Mo Abusham, president of Better Life Mobility Center. "Both the Northstar and Summit conversions offer our customers increased interior cabin space for greater maneuverability, as well as overall headroom. The engineering and materials used in both Honda Odyssey conversions are among the best I've seen in the industry and rival OEM quality."
The 2011 Odyssey is available in four trim levels including EX, EX-L, Touring and Touring Elite, all powered by an efficient 248 horsepower I-VTEC V6 engine. The Odyssey offers best-in-class fuel economy of 19 miles per gallon in the city and 28 miles per gallon on the highway using advanced technologies like the six-speed automatic transmission and Variable Cylinder Management. Honda offers an array of entertainment options on the new minivan, including a 650 Watt stereo system with USB audio interface and 16.2" dual DVD screen.
"We designed our wheelchair conversion of the 2011 Honda Odyssey minivan based on tools and systems acquired from our Lean Manufacturing and Six Sigma initiatives," added Ted A. Larson, VMI's vice president of engineering. "Through these advanced manufacturing processes, our engineering team was able to pinpoint potential issues during development and correct them before production began. It's our way of staying true to the same core values that has made Honda one of the leading automotive manufacturers around the world."
The Honda includes an improved FLEX floor that provides an unprecedented 12 ¾" drop from the original floor, affording the conversion two unique distinctions; the most wheelchair maneuvering room and the lowest ramp angle of any vehicle. E-coated for corrosion resistance and assembled with light weight stamped metal components, the FLEX floor is VMI's foremost statement on innovation.
Both the Honda Northstar and Summit conversions feature an improved PowerKneelTM system to reduce noise and increase dependability. The PowerKneelTM lowers the vehicle to provide the wheelchair user with a lower ramp angle when traveling into and out of the vehicle. The system has an electro-hydraulic actuator that uses less energy and a built-in manual release for safety.
The Northstar conversion includes:

55" Door opening height
30" Usable ramp width
750 lb. Load rating
SURE DEPLOYTM Emergency Backup System
Successfully completed two 10,000 mile validation cycles
The Summit conversion includes:

55" Door opening height
28 7/8" Usable ramp width
600 Ib. Load rating
VMI has already passed all required Federal Motor Vehicle Safety Standards (FMVSS), including the rigorous 50 mph rear impact collision, which tests floor structure and fuel system integrity. VMI spared no cost to make the 2011 Honda Odyssey conversion the safest and most reliable vehicle in the mobility market.
"Our number one goal at Better Life Mobility is to allow people with disabilities to live without limitations," added Abusham. "The new VMI Odyssey is going to help us keep that promise by offering the kind of features, quality and reliability that comes from driving a Honda that carries the VMI badge."
ABOUT BETTER LIFE MOBILITY
A family-owned business, Better Life Mobility is a leading California-based retailer of full size vans, minivans, trucks and luxury vehicles as well as scooters, wheelchairs, lifts and ramps for the mobility market. Founded in 1997 in Riverside, California, the family-owned company has since expanded to include stores in San Diego and Las Vegas.
Today, the company continues to grow based on two philosophies: 1.) that people, not profit, are the key to success and 2.) that people with disabilities deserve a better life, a life without limitations. For more information, call Mo Abusham at (619) 474-4072 or visit http://www.betterlifemobility.com.
# # #