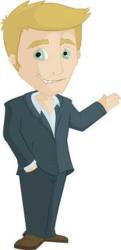 To be able to watch the entire thing (Jerry West Presentation)– something people paid hundreds, even thousands of dollars to experience in person – is an incredible opportunity
Austin, Texas (PRWEB) July 24, 2012
BetterNetworker Instructor Fernando Ceballos, a well-known figure in the Internet marketing world, recently posted Jerry West's full presentation from this year's No Excuses Summit 3 on BetterNetworker.com, where it is available for both members and non-members alike to watch.
A first-time speaker at No Excuses, Jerry West's identity was withheld from the general public until he appeared on stage as a "surprise" speaker. Known only as "Mr. X," West's identity was the source of much speculation in the weeks and months preceding the event.
The world's leading authority on Search Engine Optimization (SEO) and mentor to both Ceballos and Fong, West is known for employing a scientific approach to SEO via his network of over 800 websites, reverse-engineering the search engine algorithms for multi-million dollar niche markets. During his presentation at No Excuses Summit 3, West revealed some of the techniques and strategies he uses in his unique SEO approach that have enabled him to produce $13.6 million in affiliate sales and $3 million in commissions online over the past 2 years.
"West's presentation was extremely powerful," says Andrew Draughon, senior editor of BetterNetworker. "To be able to watch the entire thing – something people paid hundreds, even thousands of dollars to experience in person – is an incredible opportunity, and we're really grateful to Ferny [Ceballos] for giving our members the chance to watch and learn from it."
Held in April of this year, the No Excuses Summit is an annual three-day event that takes place in Las Vegas and represents one of the biggest network and Internet marketing events of the year, attracting some of the most well respected and highest-earning marketers in the US around the world.
Ceballos co-founded the No Excuses Summit in 2010 with his business partner, Raymond Fong. Both Fong and Ceballos got their start in the industry as BetterNetworker members. The site introduced them to Mike Dillard, known to many as the "Godfather of Attraction Marketing," who helped Fong and Ceballos come up with one of the key characteristics of the No Excuses Summit:
"The final ingredient that made the No Excuses Summit a truly revolutionary event was introduced by Mike Dillard — three days before ticket sales started," Ceballos says. "Mike proposed that the 'No Excuses Summit' be a 'no pitch' event — with zero selling from the stage – making it the ultimate good will gesture to our customers by delivering nothing but value for three straight days."
BetterNetworker attended No Excuses Summits 2 and 3 and shot extensive video coverage of both events, including exclusive backstage interviews with speakers and behind-the-scenes footage of VIP parties. Footage from No Excuses 2 can be found in the "Leaders Library" of BetterNetworker.com.
The video of West's presentation can be found by clicking on the following link.
http://www.betternetworker.com/videos/view/marketing/seo/seo-mindcrimes-jerry-west-no-excuses-summit