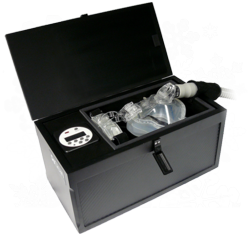 In an effort to find a device to keep my husband's equipment sanitized, my research led me to Better Rest Solutions' SoClean™ device.
Salt Lake City, UT (PRWEB) February 12, 2013
Last week, Lyndsay Johnson, Owner and Director of Marketing at Bound-by Marketing, presented to over 50 Sleep disorder specialists, respiratory therapists, home care providers, and nurses at the Intermountain Sleep Disorder Center at the LDS Hospital in Salt Lake City, UT. Johnson presented one of her client's new and innovative products the SoClean™ device—the product that utilizes activated oxygen or "ozone" to sanitize Continuous Positive Airway Pressure (CPAP) equipment.
With over 12 million Americans diagnosed with obstructive sleep apnea (OSA) and an estimate of millions more whom have not yet been diagnosed, the use of CPAP therapy is growing exponentially. OSA is a syndrome caused by obstruction of the upper airway. It is characterized by repetitive pauses in breathing during sleep, despite the effort to breathe, and is usually associated with a reduction in blood oxygen saturation. These pauses in breathing called "apneas," typically last 20 to 40 seconds. Symptoms are wide in range, however the most common are unexplained daytime sleepiness, restless sleep, and loud snoring (with periods of silence followed by gasps). OSA can put you at risk for high blood pressure, obesity, stroke, and heart disorders, amongst many others.
Johnson's passion for the medical device company, Better Rest Solutions and their product stems from the fact that her husband suffers from severe sleep apnea and struggles as a CPAP user to keep his equipment clean and sanitary. She has been asked to speak at future events in the near future to discuss her passion, sleep apnea and products she has found that help CPAP patients.
"In an effort to find a device to keep my husband's equipment sanitized, my research led me to Better Rest Solutions' SoClean™ device. We were getting pretty tired of taking his whole machine apart every day and cleaning it. It never looked or smelled clean that's for sure!" said Johnson. "We were absolutely thrilled with how much cleaner the mask and device was after using SoClean. It literally smells 'so clean'."
After using the device and seeing its effectiveness, Johnson wanted the opportunity to help spread awareness not only on sleep apnea, but on the device that has eliminated the bacteria and viruses that live within her husband's CPAP equipment. So she jumped on board with Better Rest Solutions to do just that.
But what is activated oxygen and how does it work? Activated oxygen or ozone is a natural molecule that is formed when a third atom of oxygen is introduced into the common two-atom molecule that makes up the air we breathe. This molecule becomes "super-charged" and has the ability to oxidize, or destroy many other molecules found in nature. Ozone destroys the flu virus and other viruses by diffusing through the protein coat resulting in killing of the virus. The SoClean™ utilizes this ozone to sanitize CPAP equipment and kills any bacteria or virus that might be living in or on the end-user's equipment and mask.
During one of the worst flu seasons seen in many years, the SoClean can play an extremely important role in keeping the CPAP user healthy. The flu virus can be transmitted by touching contaminated surfaces. The next step in the transmission involves touching one's face or any object, like the CPAP mask that makes contact with the face. The SoClean can break the chain of transmission by killing any virus that might be present on CPAP equipment before it contacts our face. Besides the flu virus, other pathogens can contaminate CPAP equipment, causing sinus infections and related respiratory problems. The SoClean is effective on those as well.
"We heard about this SoClean device from Lyndsay and her husband and were eager to learn more about the device and have a demo on the device," said Tom Nuttall, Research Associate at the Sleep Disorder Center at the LDS Hospital. "Her passion for having her husband being 100% compliant with his therapy is wonderful to see in the industry as it is rare to see someone so dedicated to their spouse's therapy."
What separates the SoClean from other devices is that it never releases ozone into the outside environment. It generates ozone and sanitizes CPAP equipment within a closed-loop system. Any gas that escapes this process passes through a special filter that converts it back into breathable oxygen first. Residual ozone that remains in the system naturally reverts back into the air we breathe in about two hours time.
Better Rest Solutions' innovative technology automatically completes the daily chore of sanitizing a CPAP mask, hose, and humidifier reservoir without any disassembly. It uses this ozone to eliminate any mold, bacteria, and viruses it comes in contact with—safely and effectively.
"Our goal here at Better Rest Solutions is to enhance and improve the sleep experience and overall health of those with sleep disorders. The SoClean can add an additional layer of safety to CPAP therapy which is especially important during the current flu season." said Michael Schmidt, President of Better Rest Solutions. "The SoClean was designed to make CPAP cleaning easier and more thorough than ever before. Knowing that our users are enjoying the added benefit of better health is extremely satisfying."
For more information on Better Rest Solutions, the SoClean device, and activated oxygen or "ozone" visit: http://www.betterrestsolutions.com/SoClean.html
Ordering Information:
To order the SoClean, order directly from Better Rest Solutions at http://www.betterrestsolutions.com. Or contact CareFusion by phone at 800.582.7458 or by email at tiarasales@carefusion.com.
About Better Rest Solutions:
Many of the employees at Better Rest Solutions either have, or have a close family member who has obstructive sleep apnea. Their personal insight into this condition is part of the foundation that they have built their company on. They are dedicated to providing relief for OSA sufferers and are proud to be offering the SoClean as a way to get the most out of CPAP therapy. Besides the health benefits connected with using germ-free equipment, there is a peace of mind that comes from knowing that the end-user's CPAP equipment is as safe as can be.
For more information on Better Rest Solutions, visit: http://www.betterrestsolutions.com
About Bound-by Marketing, Inc:
Bound-by Marketing is an interactive marketing boutique agency out of Park City, UT. They specialize in medical device and automotive marketing, design, and consulting. As a strategic partner for marketing they offer solutions for web and mobile application development, interactive web development, public relations, e-commerce solutions, brand development and management and the maintenance of it all.
For more information on Bound-by Marketing, visit: http://www.boundbymarketing.com
# # #