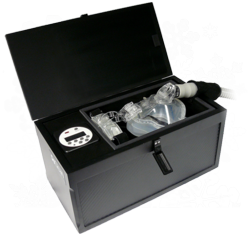 We were absolutely thrilled with how much cleaner the mask and device was after using SoClean. It literally smells 'so clean'.
Uxbridge, MA (PRWEB) February 27, 2013
February is much more than a month to celebrate the love we have within our hearts. It is also heart health month where we should all have recognized the importance of heart health. Snoring may be an annoying habit, but it can be much more serious than some might know. Snoring is one of the signs of Obstructive Sleep Apnea (OSA) which is a serious sleep disorder.
Untreated sleep apnea can increase the risk of high blood pressure, heart attack, stroke, obesity, adult asthma, GERD, and Type 2 diabetes. It can increase the risk of, or worsen, heart failure and additionally, can increase the chance of having work-related or driving accidents. Apart from risks to cardiovascular health, when breathing is interrupted, the oxygen level in the blood decreases and causes damage to a multitude of cells in the body.
Because sleep apnea is a chronic condition that requires long-term management, it also requires long-term maintenance of the equipment.
According to the World Health Organization approximately 100 million people worldwide have OSA. In the U.S. alone over 23 million Americans (approximately 25% of OSA sufferers) have been diagnosed with OSA and an estimate of millions more whom have not yet been diagnosed. Additionally in the U.S., OSA is estimated to affect 1 in 4 men and 1 in 9 women. With these staggering numbers of Americans with the disorder the use of Continuous Positive Airway Pressure (CPAP) therapy is growing exponentially. OSA is a syndrome caused by obstruction of the upper airway. It is characterized by repetitive pauses in breathing during sleep, despite the effort to breathe, and is usually associated with a reduction in blood oxygen saturation. These pauses in breathing called "apneas," typically last 20 to 40 seconds. Clearly bringing awareness of sleep apnea during Heart Health Month is essential.
With CPAP therapy comes many challenges and one of them is keeping the equipment clean and sanitized. Most end-users struggle with keeping the equipment up-to-par in the sanitizing department, until now. Better Rest Solutions' innovative product, SoClean™ automatically completes the daily chore of sanitizing a CPAP mask, hose, and reservoir without any disassembly. It uses ozone or "activated oxygen" to eliminate any mold, bacteria, and viruses it comes in contact with—safely and effectively.
Activated oxygen or ozone is a natural molecule that is formed when a third atom of oxygen is introduced into the common two-atom molecule that makes up the air we breathe. This molecule becomes "super-charged" and has the ability to oxidize, or destroy many other molecules found in nature. Ozone destroys viruses including the flu by diffusing through the protein coat which results in the virus being killed. The SoClean utilizes this ozone to sanitize CPAP equipment and kills any bacteria or viruses that might be living in or on the end-user's equipment and mask.
"In an effort to find a device to keep my husband's equipment sanitized, my research led me to Better Rest Solutions' SoClean device. We were getting pretty tired of taking his whole machine apart every day and cleaning it. It never looked or smelled clean that's for sure!" said Lyndsay Johnson. "We were absolutely thrilled with how much cleaner the mask and device was after using SoClean. It literally smells 'so clean'."
By keeping the CPAP equipment clean and sanitized this keeps the end-user healthier and much more compliant to therapy, which in turn helps to decrease the chances of experiencing the hidden dangers of sleep apnea. What separates the SoClean from other devices is that it never releases ozone into the outside environment. It generates ozone and sanitizes CPAP equipment within a closed-loop system. Any gas that escapes this process passes through a special filter that converts it back into breathable oxygen first. Residual ozone that remains in the system naturally reverts back into the air we breathe in about two hours time.
To shine more light on sleep apnea as a serious health issue, the American Sleep Apnea Association (ASAA) has created Sleep Apnea Awareness Day on April 18, 2013. Educating people about the dangers of sleep apnea is critical for our hearts, health, and well-being.
"Our goal here at Better Rest Solutions is to enhance and improve the sleep experience and overall health of those with sleep disorders. The SoClean can add an additional layer of safety to CPAP therapy which is especially important for compliance and heart health." said Michael Schmidt, President of Better Rest Solutions. "The SoClean was designed to make CPAP cleaning easier and more thorough than ever before. Knowing that our users are enjoying the added benefit of better health is extremely satisfying."
For more information on Better Rest Solutions, the SoClean device, and "ozone" visit: http://www.betterrestsolutions.com/SoClean.html
Ordering Information:
To order the SoClean, order directly from Better Rest Solutions at http://www.betterrestsolutions.com. Or contact CareFusion by phone at 800.582.7458 or by email at tiarasales(at)carefusion(dot)com.
About Better Rest Solutions:
Many of the employees at Better Rest Solutions either have, or have a close family member who has obstructive sleep apnea. Their personal insight into this condition is part of the foundation that they have built their company on. They are dedicated to providing relief for OSA sufferers and are proud to be offering the SoClean as a way to get the most out of CPAP therapy. Besides the health benefits connected with using germ-free equipment, there is a peace of mind that comes from knowing that the end-user's CPAP equipment is as safe as can be.
For more information about Better Rest Solutions, visit: http://www.betterrestsolutions.com
# # #