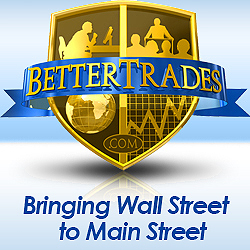 The Power Within events are about changing lives for the better. Here at BetterTrades we are committed to doing just that
Atlanta, Georgia (PRWEB) February 27, 2009
BetterTrades™, the #1 stock market education company in North America, today announced its participation in The Power Within conferences to be held in Calgary, Alberta, on March 3 and Vancouver, British Columbia, on March 6.
BetterTrades will bring its premiere stock market education presentation, Financial Freedom Expo, to thousands of registered attendees seeking inspiration and motivation. BetterTrades veteran and professional trader, Scott Schilling, will be on hand to help attendees discover:

How to profit in any market condition--up, down or sideways
Proven trading strategies for the current market
How to start trading with limited funds
How to generate steady cash returns trading minutes a day
How to face your fears, change your mindset and get started
BetterTrades will be joined by some of the world's most successful and inspiring communicators, including philanthropist and actor, Martin Sheen; "The Pursuit of Happyness" author, Chris Gardner; internationally known heart surgeon and health expert Dr. Mehmet Oz; veteran FBI consultant and one of the world's most respected authorities on forgery and embezzlement, Frank Abagnale; health and fitness trainer and Oprah regular, Bob Greene; and internationally-known negotiation specialist, Mimi Donaldson.
"The Power Within events are about changing lives for the better. Here at BetterTrades we are committed to doing just that," said Freddie Rick, founder and CEO of BetterTrades. "Through our stock market education program, we are empowering thousands of people to take control of their own financial futures by learning to trade the market themselves."
About Long Term - Short Term, Inc. doing business as BetterTrades™
Since 1998, BetterTrades, the #1 stock market education company in North America, has been bringing Wall Street to Main Street and has taught thousands of self-directed investors how to trade successfully in the stock and options market. BetterTrades' integrated approach provides students with the knowledge, tools, and techniques needed to make better trades, achieve financial independence, and build long-term, sustainable wealth. BetterTrades market-leading course structure and individual mentoring support allows students to progress at a pace that is comfortable and compatible with their individual goals and trading strategies. BetterTrades offers a variety of interactive learning options that include on-location classrooms, online (web-based) classes, hands-on instruction, and one-on-one mentoring with BetterTrades coaches.
For more information, please visit BetterTrades.
# # #