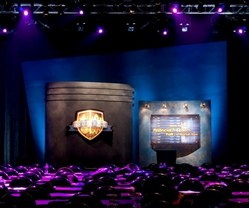 We are thrilled to have the capabilities to provide our customers with updated educational materials more frequently, which is extremely important in a time-sensitive industry like stock and options trading
Atlanta, Georgia (PRWEB) October 8, 2009
BetterTrades, the world's number one stock market education company, today announced the grand opening of its newly operational video production facilities. Located within BetterTrades Atlanta headquarters, this 11,000 square foot, soundproof and climate-controlled studio hosts three hard sets and real-time 3D virtual set creation with motion tracking. Filming and post-production are supported by a full-time crew of producers, videographers, editors, as well as 3D and motion graphics designers.
Completion of the studio provides BetterTrades with yet another channel for delivering high-quality, up-to-date financial educational material. "We are thrilled to have the capabilities to provide our customers with updated educational materials more frequently, which is extremely important in a time-sensitive industry like stock and options trading," said BetterTrades founder and CEO Freddie Rick.
Today, BetterTrades offers consumers educational opportunities within live and on demand online classrooms and trading labs, on location workshops, and CD/DVD distance learning materials. The BetterTrades.com website hosts more than 50 free online classes and more than 200 online and on location premium classes. Thanks to the addition of its new studio, BetterTrades plans on adding even more channels for delivering educational content, which is part of the company's vision to help people achieve their financial goals through a stock market education.
To support its wide array of financial classes and events, BetterTrades employs a variety of technology and media experts and also operates its own 18,000 square foot custom publishing house in West Virginia, with full color, digital printing capabilities, wide/large format printing, and CD/DVD duplication services.
After completing the studio in just three months, BetterTrades immediately hosted several hundred students to attend live tapings of 16 instructional classes taught by its five specialty trading coaches over a four-week period. Students who attended the tapings also took advantage of a unique feature of the studio - a multi-seat "trading pit" from where they could track their trades during class breaks.
During the "Summer Studio Sessions," students were able to personally interact with the specialty coaches, network with like-minded individuals, and experience the genuine hospitality that sets BetterTrades apart from other financial education companies.
BetterTrades plans on a rapid turnaround of the updated financial educational material, with scheduled release dates of the new DVD sets beginning in mid-October and continuing throughout November.
About Long Term - Short Term, Inc., doing business as BetterTrades®
Since 1998, BetterTrades, the #1 stock market education company in the world, has been bringing Wall Street to Main Street and has taught thousands of self-directed investors how to trade successfully in the stock and options market. BetterTrades' integrated approach provides students with the knowledge, tools, and techniques needed to make better trades, achieve financial independence, and build long-term, sustainable wealth. BetterTrades' market-leading course structure and mentoring support allow students to progress at a pace that is comfortable and compatible with their individual goals and trading strategies.
To demonstrate how the stock market can be a means to achieve financial independence, BetterTrades conducts its free Financial Freedom Expo regularly in locations around the world. Under the premise that success in the stock market can be achieved by borrowing the experience of other traders, the Financial Freedom Expo introduces the public to the trading strategies that have allowed many BetterTrades students to achieve their financial goals.
For more information, or to register for the free Financial Freedom Expo, please visit http://www.bettertrades.com or call 1-800-676-4410.
# # #