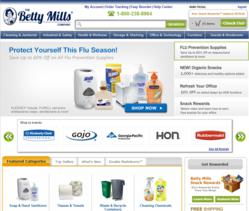 Search marketing is at the core of any great internet retailer
San Mateo, CA (PRWEB) July 06, 2012
The Betty Mills Company ® one of the nation's leading online B2B shopping destinations which offers free office snacks via their Snack Rewards Loyalty program, today announced it has hired Rana Hannoush to the position of Director of Search Marketing. In this position, Hannoush will be responsible for all SEM, SEO and onsite search.
Rana Hannoush brings over 8 years direct internet marketing experience, beginning with The New York Times Digital in Boston, MA, and over the past 4 years as Online SEM Marketing Manager for Macys.com.
Betty Mills CEO, Victor Hanna said, "Rana is one of the most passionate professionals I have ever met, particularly when it relates to the art and science of search marketing. The experience and skill set she brings to our organization will further our market share growth and greatly enhance the overall user experience for our customers. We are very excited to have Rana on our team."
"Search marketing is at the core of any great internet retailer, and I'm excited to be joining a company that truly understands the value that search can bring in terms of customer growth, conversion rates and site usability. I am very excited to be working with the Betty Mills team," said Rana Hannoush.
About Betty Mills
The Betty Mills Company® is a TOP 500 e-commerce company and one of America's leading B2B suppliers of cleaning, facility, break room and office snacks. Offering 130,000 brand-leading products shipped right to your door from over 55 U.S. warehouse locations.
With Betty Mills everyday low prices, Snack Rewards™ Customer Loyalty Program and Double Markdowns® Specials, Betty Mills offers a comfortable and easy online shopping experience for everyone who likes to buy smart and save big! Betty Mills Company's headquarter is located in San Mateo, CA. For more information, please visit BettyMills.com.
# # #