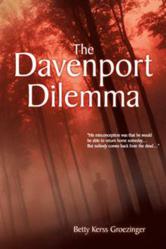 Irving, Texas (PRWEB) June 20, 2013
"My deceased husband was Army G-2, the Army equivalent of the FBI, and was stationed at the Army Hometown News Center in Kansas City, Mo., in the '50s," author Betty Kerss Groezinger shares. "As editor of the News Center, a lot of secret information passed through his hands, facts that were not allowed to go public. He told me very little about this, but it was enough for me to become intrigued by his activities and to speculate about covert groups and shadow governments." During that time, Groezinger worked as a researcher in the legal offices of Harry S. Truman following his presidency. Convinced of the existence of such covert groups, she finally decided to pen her new book, "The Davenport Dilemma" (published by Abbott Press).
"The Davenport Dilemma" is a story of intrigue about former Army G-2 officer Josh Davenport who has infiltrated The Brotherhood, a terrorist group working to create a New World Order that would supersede all individual governments. But when Davenport's cover is blown, The Brotherhood orders his termination.
Six years after the death of her husband, Jennie Davenport has rebuilt her life. Following a bizarre vision, she begins to suspect her husband is actually still alive. She swears she spoke to him, but was Josh real or a figment of her desperate imagination? Determined to find out if Josh is dead or alive, Jennie unknowingly jumps into the line of fire where every word she speaks is listened to and every move she makes is watched. The vision of her dead husband soon turns into a nightmare as Jennie becomes The Brotherhood's next target.
"The Davenport Dilemma"
By Betty Kerss Groezinger
Hardcover | 6 x 9 in | 278 pages | ISBN 9781458207340
Softcover | 6 x 9 in | 278 pages | ISBN 9781458207357
E-Book | 278 pages | ISBN 9781458207333
Available at Amazon and Barnes & Noble
About the Author
Betty Kerss Groezinger did legal research for Harry S. Truman in Independence, Mo., and works for a Dallas law firm. A graduate of the University of North Texas, she taught business courses at Rockhurst College in Kansas City. She lives in the Dallas/Fort Worth area.
Abbott Press, a division of Writer's Digest – the oldest and most respected publisher devoted to the education and advancement of writers – is an indie-publishing imprint dedicated to helping writers bring their literary vision to print. Author Solutions, Inc., a leader in indie book publishing, will fulfill publishing, sales, and marketing services for Abbott Press. For more information, or to begin publishing a book today, log on to abbottpress.com or call 866-697-5310.
###