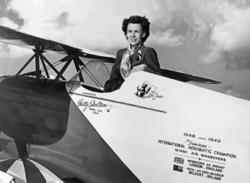 (PRWEB) September 08, 2011
Betty Skelton
Betty Skelton (Frankman Erde), a daredevil pilot who was a three-time national aerobatics champion and became known as the "fastest woman on Earth" when she set speed records in airplanes and automobiles, died Aug. 31 at her home in The Villages, Fla. She was 85.
Born in Pensacola, Florida, on June 28, 1926, Skelton soloed an airplane – illegally – at age 12, and became a three time International Aerobatic Champion, set 17 aviation and race car records, and paved the way for women in aviation, sports, and business.
After learning aerobatics she bought a 1929 Great Lakes 2T1A biplane, and started her professional career in 1946 at the Southeastern Air Exposition in Jacksonville, Fla. She won her first International Feminine Aerobatic Championship in 1948 and bought a new agile biplane, the Pitts S-1C Special, designed by Curtis Pitts. Skelton's Pitts sported a brilliant red and white paint scheme, a wolf whistle for attracting airport line boys, and a red button on her panel that read "Spin, crash, and burn." She called the plane Little Stinker and in it she became the first woman to perform an inverted ribbon cut. She earned subsequent aerobatic titles in 1949 and 1950 and flew the air show circuit. She also set a women's altitude record of 29,050 in a Piper Super Cub and flew Woody Edmondson's P-51 to an unofficial speed of 421 mph when her engine quit and she was forced to make a dead stick landing at MacDill AFB in Florida.
Skelton was the princess of peach and magnolia festivals across the south, but she was also a respected columnist for Flying magazine, Air Trails and other publications, had her own radio show, and appeared in advertisements. Walter and Olive Anne Beech asked her to fly demonstration flights of the Beech T-34 for an Air Force evaluation team and Beech won the contract. In 1949, she packed up Little Stinker for an Atlantic voyage on the ocean liner Queen Mary to perform at the International Air Pageant in London, England and a Royal Air Force Air Pageant in Belfast, Ireland.
In 1951, having made her mark in aerobatics, Skelton sold the Pitts, however, her skill and showmanship had already piqued the interest of other competitors who began ordering them. Pitts biplanes eventually became top aerobatic competition aircraft and remain advanced aerobatic trainers today. Later, Skelton and her husband Donald Frankman reacquired the Pitts S-1C and donated it to the National Air and Space Museum in 1985. Following a restoration by volunteers, Skelton's Little Stinker is now suspended in the entrance of the Museum's Steven F. Udvar- Hazy Center near Dulles Airport.
With no opportunities for women in commercial or military flying, Skelton flew charters out of Raleigh, North Carolina where she met Bill France, the founder of NASCAR, who invited her to the Daytona races. She became the first woman to drive a pace car at Daytona Beach Speed Week and, as the auto industry's first female test driver, she guided "L'il Miss Dodge," a jump boat, over a 1955 Custom Royal Lancer at Florida's Cypress Gardens. In 1956, Skelton broke a transcontinental speed record, driving 2,913 miles from New York to Los Angeles in 56 hours and 58 minutes and, in 1958, she set a round-trip transcontinental record from Buenos Aires, Argentina to Vina Del Mar, Chile, in 41 hours and 14 minutes. She was an advertising executive with the General Motors Company in print, television, and automobile demonstration runs in the 1960s. In 1965, she drove Art Arfons' jet powered Green Monster – Cyclops on the Bonneville Salt Flat, setting four Women's Land Speed Records.
In 1959, at the request of Look magazine, she took and passed the same physical and psychological tests as the Mercury seven astronauts, who nicknamed her "7 ½." She made the cover of Look magazine, but never had any illusions that a woman would be selected for the Mercury program.
Skelton married TV producer and advertising executive Donald Frankman in 1965; they returned to Florida in 1971 where they kept a Taylorcraft aircraft on floats and a Lake Buccaneer on the lake behind their Winter Haven home. He died in 2001. In 2005, Skelton married Allan Erde, a retired Naval flight surgeon.
Racing pilot Steve Wittman said of Skelton: "She not only superbly demonstrated aerobatics to the highest degree of excellence, but she also became a legendary inspiration to the art of precision aerobatics."
When asked about being a woman competing with men in two male-dominated fields, Betty said: "Competing? No, I didn't really do that. I found that once I demonstrated I was capable, had the ability, I was accepted. And I found that true everywhere I've ever been and in everything I've ever done."
In 1988, Skelton established the Betty Skelton First Lady of Aerobatics Award that is given each year to the highest placing female pilot at the U.S. National Aerobatic Championships. Among others, Betty Skelton is an inductee of seven Hall of Fames including the National Aviation Hall of Fame, the Motorsports Hall of Fame, NASCAR Hall of Fame, Corvette Hall of Fame, and the Paul E. Garber First Flight Shrine at Wright Brothers National Memorial. In addition, Skelton was inducted into the International Council of Air Shows Hall of Fame in 2003.
Betty Skelton is survived by her husband Alan Erde.
In lieu of flowers, the family is requesting that donations be made to the ICAS Foundation in Betty Skelton's name at http://www.icasfoundation.org. Air show industry officials are also asking that friends, fans and colleagues send their recollections of Betty as an air show performer via e-mail to icas(at)airshows(dot)aero
###