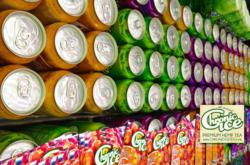 Americans are increasingly aware of the health benefits of hemp seed and are growing a craving for our hemp tea and soda products.
Los Angeles, CA (PRWEB) April 26, 2012
Within days of introducing its new Grape Escape and Peach Perfection flavors of Chronic Ice hemp iced tea, and the nation's first hemp soda, Chronic Ice Ginger Ale, Greenlight Beverages says it has sold all 105,000 cans it produced in the first run. The company is now busy brewing up a thousand more cases of its deliciously refreshing health beverages to help satisfy America's seemingly unquenchable thirst for Chronic Ice.
"We knew our new flavors would be a hit, but didn't realize we'd be racing to keep up with demand after just a few days," said Greenlight Beverage spokesman Jamal Weathers. "Americans are increasingly aware of the health benefits of hemp seed and are growing a craving for our ready to drink hemp tea and hemp soda products."
Hemp seed powder is the signature component of all of Greenlight Beverages' health drinks. According to Dr. Slavik Dushenkov, Executive Vice President of Consolidated Growers and Processors, Inc., hemp seed is a super food. And as awareness of the nutritional properties of hemp seed grows, so does demand.
The product that seems to be gathering the most attention is Chronic Ice Ginger Ale, the nation's first premium hemp soda. The spicy, sparkling carbonated beverage made from real ginger extract, cane sugar and hemp seed powder, is becoming increasingly popular on its own and as a mixer in adult drinks, like Absolut Chronic, made with Absolut Mandarin Vodka & Chronic Ice Ginger Ale.
Bartenders also have fun serving many other innovative Chronic Ice mixed drinks, like:

Sir Chron—made with Ciroc Vodka and Chronic Ice Peach Perfection
The Vonic—made with Voli spirits and Chronic Ice Original Lemon
Chron Island Iced Tea—made with Bacardi Rum, Bombay Sapphire Gin, Ciroc Vodka, Triple Sec, Chronic Ice Original Lemon and a splash of Coca-Cola
Greenlight Beverages recently launched its new website, which is designed to convey the refreshing and healthful qualities of Chronic Ice hemp beverages. The new site features give fans easy access to product information, special promotions, news, a blog and social media updates.
Greenlight Beverages just launched its Hemp Tea Partay marketing campaign, which the health drink producer calls "a movement designed to increase hemp education and awareness." By the end of next month, Greenlight plans to recruit "ambassadors" around the country and provide them with materials to help spread the word about the goodness of hemp.
For more information about Greenlight Beverages or to order Chronic Ice, please visit greenlightbeverages.com or call (888) 557-3332.
About Greenlight Beverages
Greenlight Beverages is a Los Angeles-based company focused on bringing healthful drinks to the alternative beverage market. Greenlight Beverages is proud to present Chronic Ice, the nation's first premium hemp beverage. Made with green and black teas, hemp seed powder, and pure cane sugar, Chronic Ice is the perfect alternative to the chemicals and corn syrup found in other drinks.