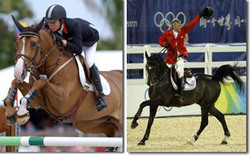 [We are] excited about this partnership and... thrilled to be collaborating with them.
Gladstone, NJ (PRWEB) May 11, 2010
Mark H. Walter, President and CEO of Beval Saddlery is "excited about this partnership and the enthusiastic support of both Nicki and Will." He continued by saying, "the timing couldn't be better" as he referred to this following on the heels of a recent endorsement by legendary horseman, George H. Morris, for the Beval Butet Premium Saddle. In addition to the valuable endorsement of Beval and Butet products by Will and Nicki, Mr. Walter is "thrilled to be collaborating with them" on product development projects as they are truly at the heart of what drives the industry, as well as the Beval brand.
Based out of Royal Oaks Farm in Thousand Oaks, CA, Nicki and Will operate a premier training business offering superior care and coaching for competitive show jumping equestrians. At the time of this release, Nicki ranks 4th among the leaders long listed for the 2010 WEG Show Jumping Team. As one of only 11 riders to win both the ASPCA Maclay National Championship and the AHSA/Medal Championship as a junior, Nicki made her Grand Prix debut in 1993. Since then, she has competed Internationally at events including 7 World Cup Finals & the 2002 World Equestrian Games. Her husband and teammate, Will Simpson, will support Nicki through the 2010 World Equestrian Games as he keeps his eye on the 2012 Olympics. Will made an early mark on the Show Jumping world when he set an outdoor high-jump record of 7'9" on Jolly Good in 1985. He built a resume of impressive achievements including a 2002 West Coast League Championship win (scoring the 3rd highest total in the league's history), four consecutive Del Mar International Grand Prix victories, first place wins at the 2006 CANA Cup & 2007 Ariat Grand Prix, numerous 2008 Grand Prix wins and 2008 Olympic Show Jumping Team Gold.
This is, no doubt, an exciting time for Grand Prix riders Nicki and Will Simpson. Mr. Walter and the Beval Saddlery family look forward to supporting their continued success.
Beval Saddlery offers over 50 years of excellence as a premier saddlery manufacturer and supplier with a complete menu of services catering to the discerning equestrian. With retail stores in Gladstone, NJ; North Salem, NY; New Canaan, CT; Saugerties, NY and Wellington, FL as well as a mobile unit that travels to horse shows up and down the East coast, they remain at the heart of the equestrian community. For more information about Beval Saddlery services, saddle fitting, leather repair, custom tailoring and alterations, please call Beval directly at 800-524-0136, visit their website at http://www.beval.com, email or visit your closest Beval store.
###