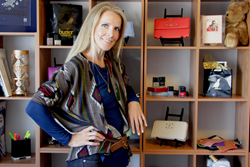 "I am passionate about the BEVÉE brand because I identify so strongly with the needs of our customers. As a busy entrepreneur and mum of three kids, I need an everyday handbag that is more than just arm candy."
Seattle, WA (PRWEB) May 19, 2015
Sasha Muir is no stranger to building a successful brand in the fashion world. The butter LONDON Founder has embarked on a new venture BEVÉE (http://www.bevee.com), a luxury handbag and accessories line sold exclusively online.
In July of 2014, Encore Consumer Capital made a majority investment in butter LONDON, enabling Sasha to focus all her energy on her new venture.
The BEVÉE brand targets modern women who are pushing the limits, both professionally and personally, and who need a handbag that can keep pace with their busy lifestyle.
"I am passionate about the BEVÉE brand because I identify so strongly with the needs of our customers," states Muir. "As a busy entrepreneur and mum of three kids, I need an everyday handbag that is more than just arm candy."
Each BEVÉE bag is thoughtfully designed to include unique elements that offer much needed versatility to compliment a modern woman's lifestyle. One such feature included in each style is the patent-pending detachable billfold.
To date, the company has launched three luxury handbag styles in a color palette that ranges from seasonal on-trend hues to twists on modern classics.
The success of butter LONDON, hailed as one of the greatest indie beauty brand launches of recent time, gives Muir the experience to build BEVÉE into another household brand for fashion-minded mothers, entrepreneurs, businesswomen and all women on the go.
Early indications are positive. Only a few months after BEVÉE's launch, American actress and Ugly Betty star, America Ferrera, was spotted with the black BEVÉE Trifold Convertible Wallet, worn as a cross-body handbag, while walking with husband, Ryan Piers Williams, in New York City's Central Park.
Muir admits that the handbag market is over-saturated. However, she stresses that her "direct to consumer strategy, targeting a niche group of customers with differentiated products" will enable her to be successful again.
To request an interview, or to discuss a partnership opportunity, please email info@bevee.com.
About BEVÉE
BEVÉE is a luxury online handbag brand with a mission to support and celebrate busy, modern women who are pushing the limits, both professionally and personally. Incorporating chic, European aesthetics with unique functional design elements, BEVÉE's line of versatile leather handbags and accessories are designed to keep pace with the demands of her busy lifestyle and match her love of fashion.
About Sasha Muir
Sasha Muir, CEO of BEVÉE, is no stranger to the world of startups and fashion. She successfully built  butter LONDON into one of the most influential, high-design, nail lacquer brands known for its fashion-forward catwalk colors and innovative, non-toxic formulations. As a mother of three young children and a female entrepreneur advisor with a full and fun family and social life, she identifies strongly with the BEVÉE brand she is building.
Contact
Name: Adriane Musuneggi
Email: press@bevee.com
Phone: 1 (844) MY BEVEE or 1 (844) 692-3833
Social Media: @BEVEE_BAGS (Twitter and Instagram)