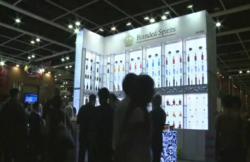 The China market - the consumer market - is going to be the largest in the history of mankind.
Hong Kong SAR (PRWEB) November 09, 2011
China has the fastest growing market for … Well, what market isn't growing fast over there these days? Whether it be cars, bottled water, or – as evident from this weekend's Hong Kong International Wine & Spirits Fair –alcohol, the country's consumer goods industries are booming.
At the HKTDC Hong Kong International Wine & Spirits Fair, now Asia's largest wine and spirits convention, exhibitors from around the world displayed their brands and labels to distributors, retailers, and others who sell in China, the world's fastest growing market for wine.
Including products from across the globe, the HKTDC also featured Branded Spirits Limited's 1940 Dupuy Cognac worth more than $14,000US and Ice Fox Vodka, an American brand that has becoming wildly popular amongst connoisseurs in Asia.
"You're not going to get anything done in China, if you don't come to China," says one man running a French wine exhibit. And with 934 exhibitors, a 37% increase from 2010, he's not the only one who thinks that alcoholic beverage sales in China will continue to shoot through the roof.
"I've seen over the years," he goes on to say, "the amount of visitors increasing, but more important, the quality, and the knowledge. The education of the visitor is also increasing."
Indeed, China's market for alcohol has been seeing vast and rapid growth, not only in sales, but in appreciation for the complexity of taste. "We did it in 400 years; California did it in 50 years; here we will do it in 20 years – maybe 15," laughs Thierry Desseauve, a prominent wine critic from France.
But is it possible that this is just the newest economic bubble?
Definitely not according data found by James Miles, director of Liv-Ex, a fine wine traders' exchange. He says, "Hong Kong and China has been a very exciting market for the last three or four years. As Europe and the US have been having a difficult time economically, the strength in Hong Kong and China has really supported the market, and the growth in this region has been extremely strong."
"The market for this is just growing like crazy … The China market – the consumer market – is going to be the largest in the history of mankind, whether that be in 10 years, 15 years, or 20 years, but surely it will be the largest in the world," says George Chen, CEO of Branded Spirits Ltd and China Distribution and Logistics Ltd., the sole distributor of Evian water in China.
For more information or photos, please visit http://www.BrandedSpirits.com/
China Distribution & Logistics Ltd. | 28 Queen's Road East, Suite 1101 | Wanchai, Hong Kong
nicholas(dot)chen(at)brandedspirits(dot)com | HK Tel: (852) 2865 - 3883 | US Tel: (415) 385 – 3904
Branded Spirits Ltd. | 28 Queen's Road East, Suite 1102 | Wanchai, Hong Kong
nicholas(dot)chen(at)brandedspirits(dot)com | HK Tel: (852) 2865 - 3883 |US Tel: (415) 385 - 3904
# # #