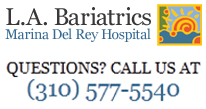 Our new college is a highly skilled and respectable doctor and a true pioneer of bariatric surgery.
Beverly Hills, CA (PRWEB) July 31, 2012
Bariatric patients at L.A. Bariatrics, Beverly Hills have now a new, skilled and dedicated bariatic surgeon - Dr. Monali Misra.
After completing a fellowship in Laparoscopic & Bariatric Surgery at Cedars Sinai Medical Center in Los Angeles, Dr. Misra is working now at L.A. Bariatrics, a Bariatric Surgery Center of Excellence lead by Dr. Jeremy Korman another dedicated and experienced weight loss surgeon.
Dr. Misra is a board-certified general surgeon who was educated at the University of Saskatchewan, Canada and completed her general surgery residency at McMaster University, where she was assistant professor of surgery. Dr. Misra is a pioneer in bariatric surgery, she co-founded and was director at the Canadian Institute of Bariatric Options, which was the first Canadian institute performing outpatient weight loss surgery.
Dr. Mona Misra is member of the American Society of Metabolic & Bariatric Surgeons and of the Society for American Gastrointestinal & Endoscopic Surgeons; she is fellow of the American College of Surgeons and of The Royal College of Physicians & Surgeons.
Dr. Misra performs surgical weight loss procedures like adjustable gastric banding, commonly known as lap band, gastric bypass, gastric sleeve, gastric plication, revisional surgeries, combination procedures and the Spider procedure, a new single-incision surgical system.
Dr. Korman, medical director at L.A. Bariatrics stated: "Our new colleague is a highly skilled and respectable doctor and a true pioneer of bariatric surgery."
About L.A. Bariatrics in Beverly Hills
L.A. Bariatrics provides gastric bypass, adjustable gastric banding (lap band) gastric sleeve, plicated band. The weight loss center has been a Bariatric Surgery Center for Excellence for more than five years.