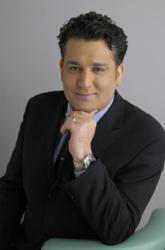 I have looked for a dentist like him for over 7 years, and I found Dr. Joseph Stan! His level of care and expertise have no match. More than an amazing dentist, he really truly is a aesthetic artist.
- Anna
Beverly Hills, CA (PRWEB) February 27, 2012
Aesthetic & Implant Dentistry of Beverly Hills embraces the smiles of Beverly Hills residents – including celebrities such as Celine Dion, Mark McGrath, Erica Wynn and more! Joseph Stan, DDS is an exceptional dentist with over 21 years of experience offering smile artistry, implant dentistry and more.
Dr. Stan achieves the highest caliber of success by surrounding every patient with the best technology, care and service. The staff of Aesthetic & Implant Dentistry of Beverly Hills includes the full spectrum of dental specialists. Every procedure, from hygiene cleanings to dental implants to IV sedation dentistry, offers exquisite care from specialists in the field. Extra training and years of experience enable each specialist to bring unparalleled care to every patient.
A healthy and beautiful smile is much more than a cosmetic feature. When patients feel comfortable at their Beverly Hills dentist office, they realize a dream smile is within reach. Dr. Stan, Dr. Molayem, Dr. Ghoneim, Dr. Firouz, Dr. Maz and Dr. Hill are all capable of delivering extraordinary smile artistry and restorative dentistry.
Guests are welcome to enjoy fine amenities and relax with comforts like sedation dentistry, air abrasion, laser dentistry and much more. To keep your mind at east, Dr. Stan offers aromatherapy, warm blankets and neck pillows, just to name a few treats. A trip to the dentist may never feel the same, especially to those who have long battled with dental phobias or aversion.
A beautiful smile is an unmistakable asset. Get the most out of yours with Joseph Stan, DDS and Aesthetic & Implant Dentistry of Beverly Hills!
# # #