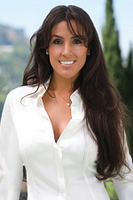 Beverly Hills, CA (PRWEB) August 11, 2009
Mara Granderson, the prominent luxury real estate specialist for premier Westside properties, has proudly announced the launch of her new website, MaraGranderson.com. Designed to be a one-stop resource for buyers, sellers and investors in Beverly Hills real estate of distinction, the website is interactive, user-friendly and continuously updated with the latest information on real estate, investment opportunities and local market trends.
Granderson is one of the Westside's preeminent listing agents, with a wealth of experience in marketing extraordinary properties for an equally distinguished clientele. Her website showcases these exceptional homes with flair, providing potential buyers with a compendium of stunning previews and lavish amenities.
Having partnered with the legendary Joyce Rey and Coldwell Banker Previews International®, Granderson provides her clients with access to some of the finest Beverly Hills, Brentwood, Bel-Air and Holmby Hills real estate on the market today. These signature homes and estates are featured in the site's "Properties" page, accompanied by extensive descriptions and photographs that showcase each property's unique features.
Buyers, investors and developers interested in Beverly Hills, Bel-Air, Holmby Hills and Brentwood real estate will find a wealth of tools and resources. The site's easy-to-use Home Search feature, for example, pulls up a complete list of Beverly Hills and Westside real estate properties on the MLS that meet your requirements. For more information on Beverly Hills and its nearby areas, visitors to the site may click on the "Communities" section, where Granderson has assembled community profiles and relevant area links.
The Beverly Hills real estate market contains million-dollar estates and landmark, architecturally significant homes. It is one of the country's most emblematic luxury housing markets and navigating through it can often be a complex process. With the resources on the website and the commitment, experience and extensive insider's knowledge that Granderson herself provides, the process becomes more streamlined and straightforward, resulting in more equitable results and an invaluable sense of satisfaction.
Access this comprehensive new online resource for a preview of the wealth of real estate purchase and investment opportunities in the Beverly Hills area, as well as more in-depth information on the market and the communities.
About Mara Granderson: Apart from being a fully licensed REALTOR® partnered with Joyce Rey and Coldwell Banker Previews International, Mara Granderson is also the founder and Chief Operating Officer of Fulcrum Financial, Inc. and the co-founder and executive vice president of Equinaire. Granderson has been specializing in upper-tier Westside residential properties for more than ten years, providing an unflagging commitment to excellence and personal service for her distinguished client list, which includes high profile members of the entertainment industry.
###