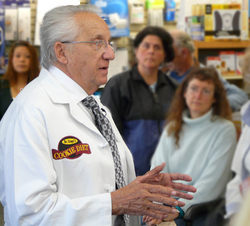 The volume of media coverage of Dr. Siegal's® COOKIE DIET™ in the past few weeks is unprecedented. I've had more than my fair share of national publicity during the past 33 years but nothing like this
Beverly Hills, CA (PRWEB) May 6, 2008
Dr. Siegal's Direct Nutritionals LLC, the exclusive global distributor of the fast-growing Dr. Siegal's® COOKIE DIET™ weight loss system and hunger-controlling diet cookies, shakes, and soup, today announced that it will open its eighth retail outlet and first full-size store in Beverly Hills, California. The non-medical retail store will be located in the heart of the famed Beverly Hills triangle, two blocks from star-studded Rodeo Drive on North Bedford Drive, well-known for the many prominent plastic surgeons whose offices are located there. The store is expected to open in June 2008.
"We chose Beverly Hills as the location for our first full-size store because we have several thousand CookieDiet.com customers within a ten mile radius. Our customers in surrounding neighborhoods like Century City, Burbank, and Hollywood will appreciate the convenience and savings they'll enjoy by obtaining Dr. Siegal's® COOKIE DIET™ products locally," said Matthew Siegal, president and CEO of Dr. Siegal's Direct Nutritionals, LLC. "Another benefit of opening a Dr. Siegal's® COOKIE DIET™ store in Beverly Hills is that it will enable us to provide more personal service to the Hollywood entertainers and show business executives who represent an important part of our customer base."
Although Dr. Siegal's® COOKIE DIET™ has been available for more than thirty years to patients of Siegal Medical Group, Dr. Sanford Siegal's South Florida medical practice, the renowned physician, author and weight loss expert only started offering them to the general public at non-medical retail outlets and online about one year ago. After just twelve months, his hunger-controlling foods now fuel a booming e-commerce business and seven shopping mall kiosks that are among the most successful in North America.
"Our decision to add larger stores to our portfolio was driven by space constraints and the sales volume at our shopping mall kiosks, some of which do as much business as major inline stores," added Matthew Siegal. "Dr. Siegal has been working feverishly on new products during the past six months and there just won't be anywhere to display them all in a kiosk."
Recent comments by pop icon Madonna about husband Guy Ritchie's cookie diet experience and weight loss have increased the media exposure of Dr. Siegal, his books, and his famous cookie. Links to several of those print and broadcast stories are posted at CookieDiet.com.
"The volume of media coverage of Dr. Siegal's® COOKIE DIET™ in the past few weeks is unprecedented. I've had more than my fair share of national publicity during the past 33 years but nothing like this," said Dr. Siegal. "From the Today Show, the Philadelphia Inquirer, and FOX News to the Food Channel, MSN, and E! Online, everyone has been talking about Dr. Siegal's® COOKIE DIET™," added Siegal.
In his most recent blog entry posted on CookieDiet.com, entitled "A Tale of Three (or More) Cookie Diets", Dr. Siegal explains the history and science behind his venerable cookie-based diet concept and addresses the slew of knockoff products that he says have arrived "very late to the party".
For most of its 33 year history, Dr. Siegal's® COOKIE DIET™ was limited to his own patients and those of about 200 other doctors he supplied. From 2002 to August 2006, he allowed a company to open franchised weight management centers that used his name; his 800 calories, six-cookies-a-day weight loss system; and his hunger-controlling cookies, shakes and soup. The company opened centers in various states including Florida, Massachusetts, New Jersey and California under the names Siegal Weight Management and Siegal Smart for Life Weight Management Centers. The relationship ended in August 2006. Dr. Siegal no longer supplies his products to any of his former franchisee's centers and he never disclosed his secret amino acid formula to them.
Dr. Siegal's® COOKIE DIET™ hunger-controlling foods and nutritional supplements are available online at http://www.CookieDiet.com; by phone 24/7 at 866-464-5595 toll-free; and from select doctors, drug stores and other retailers. They're also available at Dr. Siegal's® COOKIE DIET™ kiosks in Paradise Valley Mall, Chandler Fashion Center, and Scottsdale Fashion Square in Phoenix, AZ; Boca Raton Town Center Mall in Boca Raton, FL; Dadeland Mall in Miami, FL; The Galleria Mall in Ft. Lauderdale, FL; and Cherry Hill Mall in the Philadelphia suburb of Cherry Hill, NJ.
###