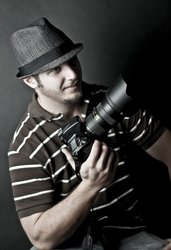 I worked my camera until the flash nearly burned out; luckily it didn't
Beverly Hills, CA (PRWEB) April 12, 2011
The Beverly Hills Photographer, Kareem Assassa, was invited to attend the 3rd Annual Brazilian Film Festival to capture all of the stars on the Red Carpet.
"The lights from all of the paparazzi's camera flashes were nearly as bright as all the stars that walked down the red carpet that evening. The goal was to capture the essence of the celebrities working their magic on the carpet. I went straight to business; got right on the red carpet, squeezed in between the crowd of photographers and aimed to get the nicest shots from the best angles of the producers, writers, and actors. I worked my camera until the flash nearly burned out; luckily it didn't," says Kareem Assassa.
After the Red Carpet event, The Beverly Hills Photographer joined the celebrities in the VIP private lounge event. There he met with Brazilian American actress Camilla Belle, actor Fabio Lanzoni, actor Keith David, actress Mina Olivera, actress Débora Bloch, Brazilian-Australian film and stage actress Caroline Correa, Brazilian actress Ludmila Dayer, Latina model Laura Soares, Brazilian actor Ricardo Chávez, actress Alyssa Price, producer Jesse Springer, actress Fernanda Espindola, the cast of "Garota Eu Fui Pra California," actor, cinematographer, and writer Rocco Melillo, "The Scorpions" Ralph Rieckermann, legendary jazz man Wayne Shorter, singer Freda Payne, Brazilian author, gonzo journalist, columnist and media personality Mayra Dias Gomes, actress Susan Kennington, actor, producer, and writer Tony Tarantino, writer, producer, and director Demian Lichtenstein, Dr. 90210's Robert Rey, and many more.
The Beverly Hills Photographer, Kareem Assassa, is located in the beautiful city of Beverly Hills. He can deliver both studio and on-location shots to give you the best options for your needs. The Beverly Hills Photographer specializes in headshots & portrait photography, actor & model photography, event photography, real estate & commercial photography.
"Photographs often express what words cannot. As a photographer it is essential for me to capture the sincerity of a moment. I provide my clients with photographs that are shared throughout their lifetime and for generations to come. I guarantee quality, professionalism, and originality every time," says Kareem.
The Beverly Hills Photographer delivers superior quality photography services to his clients. Look no further than The Beverly Hills Photographer to provide exceptional quality service at unmatched rates.
###