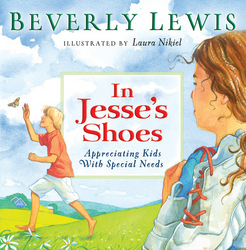 I have wiped away their tears after frequent ridicule from peers threatened to destroy their self-esteem.
Minneapolis, MN (PRWEB) October 8, 2007
New York Times Bestselling Author Beverly Lewis, the adoptive mother of two disabled children, has written In Jesse's Shoes, a children's book that helps kids better understand those with special needs.
"Being the adoptive mother of disabled children," explains New York Times bestselling author Beverly Lewis, "I have wiped away their tears after frequent ridicule from peers threatened to destroy their self-esteem."
Because of these life experiences with her children, Beverly saw a need for a book to address not only the ways in which special needs children are different, but also how they are just the same--and just as valuable--as everyone else. She wrote In Jesse's Shoes to meet this need.
Gently showing children how to accept and be kind to those who are different from them, this sensitive yet realistic story follows Jesse's sister, Allie, as she struggles to understand and relate to her autistic brother--and to the kids who make fun of him.
Beautifully illustrated and lovingly written, In Jesse's Shoes will encourage families everywhere to appreciate and befriend children with special needs.
Beverly Lewis, born in the heart of Pennsylvania Dutch country, is a former schoolteacher and accomplished pianist. As an adoptive mother of disabled children, she is uniquely gifted to instruct and encourage everyone to offer patience, gentleness, and yes, love to those who struggle with physical and developmental disabilities.
Beverly has written over eighty books for adults and children, and her latest novel, The Parting, debuted on the New York Times Paperback Fiction Bestseller list October 1 at #23. Five of her blockbuster novels have received the Gold Book Award for sales over 500,000, and The Brethren recently won a 2007 Christy Award. More than 10 million copies of her books have been sold. Beverly recently completed a tour of the Midwest in support of The Parting, and will appear in Pennsylvania bookstores at the end of October. Beverly and her husband, David, make their home in Colorado Springs. Visit beverlylewis.com.
About the Illustrator: Laura Nikiel is a freelance illustrator whose work has been published by SRA-McGraw-Hill, Harcourt Achieve, Warner Press, ZonderKidz, and others. Her vibrant watercolor illustrations bring Jesse's world to life and help readers "walk" in his shoes.
More information and sample pages are available at beverlylewis.com/injessesshoes.
###