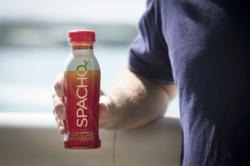 SPACHO is the epitome of the Mediterranean Diet
(PRWEB) December 18, 2012
The epitome of the "Mediterranean Diet" due to its unique ingredients, SPACHO is a next-generation veggie juice and a delicious alternative to current offerings. It's also a healthy meal replacement option for on-the-go enjoyment. SPACHO is made with selectively-sourced tomatoes, cucumbers and bell peppers; and seasoned with extra-virgin olive oil, sherry wine vinegar, garlic, onion, sea salt, cumin and pepper. High in potassium, fiber and lycopene, SPACHO is also a good source of vitamins A, C and E and helps maintain optimal cardiovascular health due to its olive oil content.
FreshForward™ Beverages founder and president Romano Palenzona, a successful restaurateur who sought a more savory vegetable juice, created SPACHO from an authentic Andalusian gazpacho recipe. Adrian Criscaut, award-wining international journalist, joined Palenzona as co-founder and VP of sales. They are life-long friends having met when they were just 5 years old.
The New Beverage Showdown is a competition where more than 20 start-up companies pitch their product to a panel of judges comprised of industry veterans. It takes place as part of BevNET Live, a semi-annual two-day conference for the US beverage industry, with an emphasis on entrepreneurial companies. It is sponsored by Venturing and Emerging Brands (VEB), a dedicated operating unit of Coca-Cola North America, charged with identifying high-potential growth brands. The event was held on Dec. 3 and 4 at the Loews Beach Hotel in Santa Monica, California.
SPACHO is coming to you soon… It will be available in 2013 in gourmet and specialty markets throughout the East Coast as part of its initial roll-out phase.