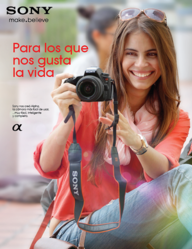 These cameras have extraordinary precision, with all models responding to extreme situations.
Miami, Fl (PRWEB) November 07, 2012
After having participated and winning the pitch to launch a new campaign for http://www.beyond-group.com/work.php earlier in February of this year, Beyond Total Branding, a new digital agency in Miami, was once again awarded the creative pitch development for the same brand for the Latin America region. For this new campaign pitch, Beyond was invited by Sony Latam through Global Mind USA, a company familiar with the power of this creative agency in Miami.
The invitation for the second "pitch" was for a campaign launching a new line of Sony Alpha cameras, a line of DSLR cameras with a high level of sophistication to compete in the semi-professional and professional category of cameras (that is, top of the line, such as the A77 model), a category that today leads Canon with its 5D and 7D models.
Beyond Total Branding proposed a simple yet honest and transparent idea that promoted the line of high-quality cameras, with their ability to take 12 photographs per second, 24 mega-pixels, and high-definition video at 1080p, by producing all the images of the campaign using the cameras themselves. Andrés Collazos, Brand Manager, accepted the challenge to submit their product to torture by communicating the facts with more than just words…the result was a "journey", as Victor Melillo, Creative Vice President of Beyond Total Branding and creator of the campaign, described: "These cameras have extraordinary precision, with all models responding to situations of extreme humidity, temperature, absence of light, among others…In terms of weather, we were forced to capture shots while running in the rain for nearly all of the planned exterior productions, supporting the scenes with basic guerilla lighting equipment…even so the results were more than satisfactory and we had a blast."
Beyond produced two versions of commercials for television and the Internet, as well as a graphic campaign that consisted of 15 pieces used in 95% of the A55 and A77 models. Two of the campaign's images were chosen by the agency to be featured in the "Sony Alpha Community" on Facebook; they are "Sunset Naranja" by Marco Emiliano Polo and Cristhoferson Zamora's "Libélula/Flor".
This campaign underscores once again the capability of Beyond Total Branding as an agency that creates and produces ideas for world-class brands, in addition to its digital capabilities – a division of the company that creates and produces interesting ATL campaigns, due to its flexibility and adaptability as well as its talent, team, and strategic alliances that help produce innovative finished products.
Technical Team:
General Production Beyond Total Branding
Creative Director and Director: Victor Melillo
Account Director: Alejandro Gonzalez
Photography Director: Ricardo Manavello
Art Director: Gianfranco Delibero
Production Director: Ana Giselle Kirsbom
Assistant Director: Alan Melillo
Camera Assistant: Johnathan Franklin
Music and Sound Design: Ricardo Bigal (Elite Music Studios)
Still Photographs: Victor Melillo