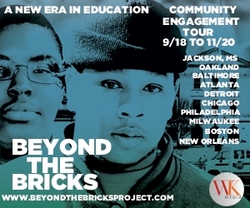 The lack of quality education is at once a local issue and a national dilemma, a school problem and a community concern
New York, NY (PRWEB) September 14, 2010
"It takes a village to raise a child."-- Unknown
While the origins of this African Proverb remain a mystery, its message remains a relevant and undeniable truth to the success of a community, particularly its youth. With this in mind, Harlem, NY based Washington Koen Media Productions is proud to announce the launch of the Beyond the Bricks national community engagement tour. Kicking off September 18, 2010 at Tugaloo College in Jackson, MS, the 10-city tour will bring together educators, community leaders, policymakers, parents and students for 'town hall' style meetings to promote positive communication, and to create solutions-based action items around how communities working together can address the problems facing black male students in school.
In support of their efforts, Washington Koen Media has developed streamlined, strategic partnerships with the Campaign for Black Male Achievement of The Open Society Institute, the United Negro College Fund (UNCF), and other leading non-profit organizations, as well as MSNBC's TheGrio.com and BET Network's Centric TV Online (Centrictv.com) to help spread the word about the tour and groundbreaking DVD documentary. Together with the soon to be re-launched Beyond The Bricks web platform (http://www.beyondthebricksproject.com), communities across the country will be engaged to their share ideas and developments, track their progress, and work together to establish objectives and goals that can be applied for future success.
With African-American and poor students being 70% more likely than their white and affluent peers to receive an education from a teacher who isn't certified in English, Math, Science or Social studies, the need for conversation and actionable solution is more critical than ever. "The lack of quality education is at once a local issue and a national dilemma, a school problem and a community concern," says Ouida Washington, Producer of Beyond the Bricks and one half of Washington Koen Media Productions. "Our National Campaign is one we hope will bring all the community stakeholders together to inspire them to make necessary change happen, not only where they are but also beyond. There are many examples of models and approaches that are working across the nation, and we think these ideas need to be shared so they can be replicated and even spur new ideas."
Beyond The Bricks town hall events are open to the public and will take place on the below dates at the specified locations:
September 18 - Jackson, MS - Tougaloo College
October 2 - Oakland, CA Allen - Temple Baptist Church
October 9 - Baltimore, MD - Morgan State University
October 16 - Atlanta, GA - Morehouse College
October 23 - Detroit, MI - Detroit Public Library
October 30 - Chicago, IL - University of Chicago
November 6 - Milwaukee, WI - TBD
November 13 - Philadelphia, PA - TBD
November 20 - Boston, MA - Wheelock College
December - New Orleans, LA – TBD
To view the film trailer or for additional information visit http://www.beyondthebricksproject.com.
FOR MEDIA INQUIRIES/ INTERVIEWS CONTACT:
KASEY WOODS
Paper Media NYC
kasey(at)papermedianyc(dot)com
917.213.9497
CHRIS GOINES
Paper Media NYC
chrisg(at)papermedianyc(dot)com
917-915-5229
ABOUT WASHINGTON KOEN MEDIA
Washington Koen Media Productions (WKMP) is a full service video production and media company focused on creating high impact media that boast socially responsible messages. WKMP produces short-long form documentaries, presentations and other media for television, Internet, corporations, curriculums and private use. Launched in 2006 by filmmakers, Ouida Washington & Derek Koen, WKMP began with an expressed interest in producing stories that reflect the communities of color need for media to connect to their everyday issues and triumphs. It is a part of the Washington Koen Media Productions mission to supplement the mainstream media's news and information with short form projects that speak specifically to diverse cultural viewpoints. For additional information visit http://www.washingtonkoenmedia.com.
ABOUT THE OPEN SOCIETY
Active in more than 70 countries, the Open Society Foundations work to build vibrant and tolerant democracies whose governments are accountable to their citizens. Working with local communities, the Open Society Foundations support justice and human rights, freedom of expression, and access to public health and education.
ABOUT UNITED NEGRO COLLEGE FUND
UNCF—the United Negro College Fund—is the nation's largest and most effective minority education organization. UNCF provides operating funds for 39 member historically black colleges and universities (HBCUs), scholarships and internships for students at about 900 institutions and faculty and administrative professional training. For more than 66 years, UNCF has raised more than $3.2 billion to help more than 350,000 students attend college and graduate from college. UNCF has distributed more funds to help minorities attend school than any entity outside of the U.S. government. Relevant and responsive to our global economy, UNCF continues to raise funds to educate the best and the brightest among us despite their financial challenges. UNCF and its member schools continue to be at the forefront of the effort to create the next generation of professionals who will keep our nation competitive and secure our future. Learn more by visiting http://www.uncf.com.
ABOUT CENTRIC TELEVISION
CENTRIC is a 24-hour entertainment channel featuring originals, movies, music and reality programming that reflects the lifestyle and sophistication of today's African-American and multicultural adult viewer. Its compelling content infuses a unique mix of music, culture, and style that embody the lives, tastes, and aspirations of the CENTRIC viewer: All You. All Day. All Night.
ABOUT THEGRIO.COM
TheGrio.com is the first video-centric news community site devoted to providing African Americans with stories and perspectives that appeal to them but are underrepresented in existing national news outlets. TheGrio features aggregated and original video packages, news articles, and blogs on topics from breaking news, politics, health, business, and entertainment, which concern its niche audience.
###