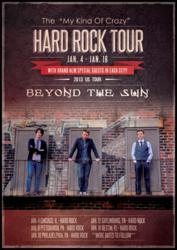 The recent release of their new EP, "My Kind of Crazy" and supporting video is rousing international attention through the universal language of good music
Toronto, ON (PRWEB) January 03, 2013
Brother pop rock trio, Beyond the Sun (BTS), announced today the beginning of their Hard Rock Café tour followed by an extensive line-up in Canada, the U.S. and Europe. The recent release of their new EP, "My Kind of Crazy" and supporting video is rousing international attention through the universal language of good music. Now Beyond the Sun gets ready to do what they do best – perform. Consistently attracting new fans and followers with their easy and engaging stage presence and music, it's not difficult to predict this band's bright future.
Beginning at the ages of 7, 9 and 12, the brothers of Beyond the Sun, Colin, Dalton and Phil Radu, were winning honors and performing at such notable venues as Canadian Music Week, the Ricoh Coliseum and the Rogers Centre in Toronto. Almost a decade later, the three have honed their individual capabilities and perfected the collective and distinctive sound of BTS. And the entire family is behind the comprehensive effort – nurturing and launching Beyond the Sun with the ultimate goal to create, produce and deliver great music to a connected audience.
BTS's background and commitment to music has resulted in the polished sound of their new EP. In less than a month, their video "My Kind of Crazy" has reached over 80,000 YouTube hits. This song's dynamic, contagious energy is followed up with four more solid tracks on their EP. Beyond the Sun's cohesive and professional sound can, in part, be attributed to producer Rick Beato and other expert mentors who have assisted the brothers in developing and evolving their craft. Each song on the EP highlights the artistry and skills of the individual band members, as well as their strength as unified players.
BTS has a sound that's fresh, exciting and relevant to an audience their age but also appeals to a younger or more mature audience. With a roster of tunes that are catchy and upbeat, listeners find themselves singing along with songs that they've never heard before. Their strong writing skills are reflected in tracks like "Not for Me" with content that people can easily relate to. "Shine On", a contemplative and soulful track that was co-written with Brad Stella (2012 CCMA award-winning music star from the duo, "The Stellas"), has the potential to move and inspire a person of any age.
And while each member of the band is interested in every aspect of production and the business of music, they all favor the act of performing… and it shows. "We leave everything we have up there. No regrets," says Colin, lead singer and the youngest member of BTS. The band, as a whole, has a unique and self-assured performance style, each expressing his individual identity while functioning as an integral member of the group. Colin's lyrical vocals are complemented by Phil's skilled guitar playing while Dalton keeps the beat holding it all together in the pocket.
Off stage, Beyond the Sun uses social media channels to build on the relationships that they develop with their followers. Their active Instagram, Twitter, YouTube and Facebook accounts keeps their fan base interested and involved. Their philosophy in connecting with their audience is to reveal a little about themselves, listen to comments and feedback, be responsive and follow-back. With over 29,000 followers on Instagram, it's working for them.
Throughout the month of January, Beyond the Sun will perform at the legendary Hard Rock Cafés in Chicago, IL; Pittsburgh and Philadelphia, PA; Gatlinburg, TN; and Destin, FL. These all-ages venues are sure to attract a new and growing fan base. Come for dinner and stay for the show. Check Beyond the Sun's website for details and Tumblr to follow their tour blogs or for more information about the band: http://www.beyondthesunmusic.com. Buy their single "My Kind of Crazy" on their website, iTunes or Amazon.