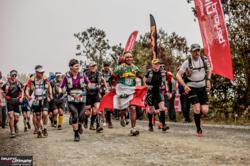 to try and succeed in this race is to try something that is truly super human - Wes Crutcher, Race Director
(PRWEB UK) 28 June 2013
"We need a medical team to CP3, there's a man down in the stream and he needs attention." Welcome to the Jungle Ultra: as their logo suggests, there really is Nothing Tougher.
The Jungle Ultra is a 230km Multi-Stage Footrace across marked trails that weave their way through the Amazon Rain Forest in Peru. Competitors battle temperatures that exceed 40°C and humidity levels that often reach 100%, all whilst negotiating jungle trails, rivers, zip lines, inclines, declines and whilst carrying their 10kg backpack, this is not a race for quitters or for the faint of heart. This year's race saw over a 3rd of the field fail to reach the finishing line, with dehydration, injury and sheer exhaustion all playing their role in this momentous event.
Race Director Wes Crutcher commented "every entrant to this race is a hero, just to have the imagination, the drive and the determination to try and succeed in this race is to try something that is truly super human and something that sets them apart from the rest"
As a Mutli-Stage Footrace the total distance is split in to 5 uneven stages, the longest of which being "The Long One" at 92km. This stage alone sees competitors cross rivers over 50 times, scale the 10km "Dead Man's Hill" and negotiate over 30km of jungle trails. Finishing after sunset, this year's "Long One" also added flash floods and the most beautiful Amazon storm to the mix, with pink and blue lightening lighting up the pitch black skies above the jungle. Woman's Red Jersey winner Kerry Reed commented "you could see nothing but the red eyes of the Black Caiman staring back at you and then the whole sky would light up, wow."
It was the sheer scale of the challenge that ultimately led endurance athlete Richard Parks to enter the Jungle Ultra this year. Richard is currently training for what he is calling his "Project X" which is going to be another world first for his portfolio and needed an event that in his words "would push me to my absolute limit and beyond," and in the Jungle Ultra he found just that! You can read Richards account of his race here and it will feature in a new Channel 5 program that is due to air May 2014.
This year's Jungle Ultra came to a close on 1st June 2013 with all competitors coming away with an experience that can't be replicated anywhere. There were tears, laughter, pain and joy but most of all there were hero's.
The Jungle Ultra is part of a 4 Race Series that includes The Mountain Ultra in Colorado, The Desert Ultra in Namibia and The Ice Ultra in the Arctic, Sweden.