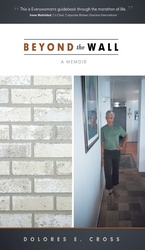 without (her) having ever been personally interviewed by the FBI, the Office of the Inspector General, the Grand Jury or Assistant U.S. Attorneys.
Chicago, IL (Vocus) October 24, 2010
For Dr. Dolores Cross, veteran marathon runner and honored college and university president, Jan. 6, 2006, was the last day of her life as she knew it.
After having resigned from her position as president of a fragile historically black college in Atlanta, Georgia only four years earlier, Cross found herself in a cold courtroom that Tuesday morning, listening in dismay as she was fined, sentenced to a year of house arrest, 500 hours of community service and five years probation. False accusations and press reports spread that she had embezzled millions of dollars in student financial aid in her role as president of Morris Brown College—a crime she did not commit. What did happen and how did she deal with it?
Cross' haunting and inspirational memoir Beyond the Wall: A Memoir details her life from a childhood in Newark, N.J.'s housing projects to a résumé that includes roles such as faculty at Northwestern University and Claremont Graduate School, vice chancellor of student affairs and special programs of the City University of New York, president of Chicago State University, president of the GE Fund in Fairfield, Conn., and distinguished professor in leadership at the Graduate School of City University of New York. Her memoir, Beyond the Wall, is a story of overcoming childhood hardships, achieving against the odds, falling into an abyss of despair and using the power of life's lessons to forgive and emerge stronger. It is a voice for all men and women, regardless of color or background, who have given themselves to a cause—only to find their lives and dreams being ripped away. It chronicles her struggles during and after, and her indictment, a decision that was made "without (her) having ever been personally interviewed by the FBI, the Office of the Inspector General, the Grand Jury or Assistant U.S. Attorneys." It is Cross' chance to finally tell her side of the story.
Beyond the Wall: A Memoir
By Dolores E. Cross
ISBN: 9781449700942
Paperback 6x9, $19.95
Hardcover 6x9, $35.95
Approximately 268 pages
Available at http://www.amazon.com and http://www.barnesandnoble.com.
About the author: Dr. Dolores E. Cross completed her undergraduate degree at Seton Hall University, her master's degree at Hofstra University, and her PhD at the University of Michigan. In a career that has spanned over 30 years, Cross has been an educator and advocate in the promotion of, access to and excellence in higher education. A veteran runner, Cross ran her first marathon at 50 and has completed 20 since. She resides in Chicago.
At WestBow Press, a division of Thomas Nelson, we help authors self-publish all genres of books, but we specialize in books with Christian morals, inspirational themes and family values. If you have goals of commercial success or simply desire to create a book for friends and family, WestBow Press can help you create the book you envision. Log on to http://www.westbowpress.com today for more information.
###