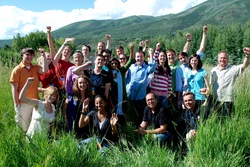 "We know that attendance at the Aspen Ideas Festival can be life changing for the individual. When these scholars return home to create sustainable Local Ideas Festivals, it can be life changing for schools across the U.S," says Jackie Bezos.
Aspen, CO (PRWEB) June 3, 2010
The Bezos Scholars Program @ the Aspen Institute is pleased to announce the selection of the 2010 Bezos Scholars. This prestigious all-expense-paid scholarship brings together 12 of the nation's top public high school juniors and 12 of the most engaged educators for a week of exploration, dialogue and debate at the acclaimed Aspen Ideas Festival, July 5-11, 2010.
In Aspen, Bezos Scholars will experience and engage in lectures, presentations, debates and panel discussions. They'll also be treated to exclusive meetings with Festival notables. Past scholars shared scholars-only time with retired Supreme Court Justice Sandra Day O'Connor, Secretaries of Education Arne Duncan and Margaret Spellings, Teach for American founder Wendy Kopp, oceanographer Sylvia Earle, inventor Dean Kamen and Pulitzer Prize-winning journalist Thomas Friedman, among many other notables.
"We live in a sound-byte culture where our collective attention span falls short when it comes to thinking deeply about many things," says Kitty Boone, Vice President of Public Programs at the Aspen Institute. "One of my long-term goals for the Aspen Ideas Festival is to reach out to broader audiences and strike a chord about the value of listening to, and talking about, the issues that we face in our world, whether they focus on conflicting religious beliefs, approaches to education, the thrill of a scientific breakthrough or the very real challenges facing our environment."
2010 BEZOS SCHOLARS @ THE ASPEN INSTITUTE
HIGH SCHOOL - STUDENT SCHOLAR - EDUCATOR SCHOLAR
Central High School Marc Simon Kyle Wallace
Springfield, MO
Chief Sealth High School Molly Freed Noah Zeichner
Seattle, WA
Davenport Central High School Jonathon O'Leary Gail Heninger
Davenport, IA
Freedom High School Elisa Berson Vivian Fiallo
Tampa, FL
Lafayette High School Jonathan Karp Zachary Matson
Lexington, KY
Lawrence North High School Rosemary Pritchett- Montavon Heather Stockdell
Indianapolis, IN
Lincoln High School Micaela Pacheco Ceballos J.P. Caruso
Lincoln, NE
Morgan County High School Katherine Key Mark Wilson
Madison, GA
Presque Isle High School Paul Elish Jennifer Bourassa
Presque Isle, ME
The Preuss School Miriam Million Anne Artz
La Jolla, CA
South Salem High School Andy Zhang Jason Niedermeyer
Salem OR
Van Nuys High School Judith Pelpola Grace Park
Medical Magnet
Van Nuys, CA
ABOUT THE BEZOS SCHOLARS PROGRAM @ THE ASPEN INSTITUTE
12 STUDENT SCHOLARS--public high school juniors--are chosen through a rigorous application process that focuses on academic achievement, demonstrated leadership and community engagement. The program seeks independent thinkers and demonstrated leaders.
12 EDUCATOR SCHOLARS. We know that inspired educators help create inspired students. Upon selection of Student Scholars, an educator from each represented school is invited to participate, thereby offering a unique leadership development opportunity.
REPLICATING THE ASPEN IDEAS FESTIVAL. Following a week at the Aspen Ideas Festival, each Student Scholar/Educator Scholar team plans a Local Ideas Festival that focuses on a relevant issue for the scholars and their respective schools. The most impressive plans are rewarded with $1,000 School Award Grants to use as seed money in support of festivals. In an exciting development in 2008, the Bezos Family Foundation provided first-ever Continuation Grants to five alumni schools seeking to sustain festivals.
The results of these Local Ideas Festivals, say students and educators, include an expansion of global awareness and community involvement. There's a little more knowledge, compassion and concern, and in some cases, direct action.
"We know that attendance at the Aspen Ideas Festival can be life changing for the individual. When these scholars -- exceptional students and educators -- return home to create sustainable Local Ideas Festivals, it can be life changing for schools and communities across the U.S. as well," explains Jackie Bezos, President and co-founder with her husband Mike, of the Bezos Family Foundation.
ABOUT THE BEZOS FAMILY FOUNDATION
The Bezos Family Foundation is a private, independent foundation established by Jackie and Mike Bezos, who along with their children and spouses, serve as directors. The Foundation works to strengthen educational opportunities for everyone, regardless of economic circumstances and cultivate learning as a life-long process that begins at birth. http://www.bezosfamilyfoundation.org
ABOUT THE ASPEN INSTITUTE
The Aspen Institute mission is twofold: to foster values-based leadership, encouraging individuals to reflect on the ideals and ideas that define a good society, and to provide a neutral and balanced venue for discussing and acting on critical issues. The Aspen Institute does this primarily in four ways: seminars, young-leader fellowships around the globe, policy programs, and public conferences and events. The Institute is based in Washington, DC, Aspen, Colorado, and on the Wye River on Maryland's Eastern Shore and has an international network of partners. http://www.aspeninstitute.org
ABOUT THE ASPEN IDEAS FESTIVAL
In a ground-breaking outgrowth of its mandate to create opportunities for deep dialogue, the Aspen Institute created the Aspen Ideas Festival to engage a broader audience in a discussion of some of the significant ideas and issues that touch all parts of our society. Alongside its partner, The Atlantic, the Festival offers a stimulating and invigorating celebration of some of the liveliest minds on today's world stage. http://www.aifestival.org
# # #