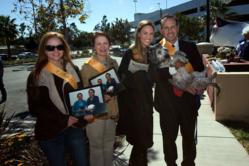 Clearly this signals a new era of hope for displaced, homeless animals in Los Angeles as we try to reduce euthanasia and increase adoptions.
Los Angeles, CA (PRWEB) February 17, 2012
In a much-anticipated astronomical anomaly, a dozen or so stars were visible in broad daylight Thursday—no telescope required. It's all about the grand opening of the Best Friends Animal Society Adoption and Spay/Neuter Services at the Northeast Valley Animal Care Center in Mission Hills.
Elected officials and civic leaders were also here. Sharing the podium were Richard Alarcón, Tony Cárdenas, Paul Koretz, and Dennis Zine, members of the Los Angeles City Council; Jim Bickhart, representing the office of Mayor Antonio Villaraigosa, Gregory Castle, co-founder and chief executive officer of Best Friends Animal Society; and Francis Battista, co-founder and vice chair of the Best Friends Animal Society board of directors.
Entertainment celebrities who attended were: Hilary Swank (Million Dollar Baby, Boys Don't Cry), Teri Polo (Meet the Fockers), Emmanuelle Vaugier (Lost Girl, Two and a Half Men), Eric & Eliza Roberts (The Dark Knight, The Expendables), Julie Marie Berman her husband Mike (General Hospital), Jackson Galaxy (My Cat from Hell), Amy Smart (The Butterfly Effect, Shameless), Rachelle Lefevre (Twilight, A Gifted Man), Danny Trejo (Sons of Anarchy, Spy Kids), Tim Omundson (Psych, Judging Amy) and Jason Gray-Stanford (Monk, A Beautiful Mind).
Many of these celebrities are part of the Best Friends Acclaimed Ambassador program, which includes well-known individuals from entertainment, sports, politics and popular culture who participate in Best Friends events and use their voices to speak out for the animals.
Best Friends Animal Society Pet Adoptions and Spay-Neuter Services is a public-private partnership that was approved by the Los Angeles City Council. Best Friends Animal Society is investing more than a million dollars each year to operate the facility as a flourishing center for adoption and spay-neuter services with the goal of ending the euthanasia of 19,000 homeless pets in Los Angeles each year. The Center also will provide low-cost spay/neuter services to the community and bring in thousands of adoptable animals each year from the other city shelters.
"We are extremely thankful to Mayor Villaraigosa and members of the City Council for supporting us and making it possible for Best Friends to open the center," said Gregory Castle, chief executive officer of Best Friends Animal Society. "Clearly this signals a new era of hope for displaced, homeless animals in Los Angeles as we try to reduce euthanasia and increase adoptions."
Last February, Best Friends put forward a proposal to the City of Los Angeles to operate adoption and spay-neuter services out of the facility, which had never opened because of budget shortfalls. The proposal was accepted and approved by the City Council back in August, but it took five months to get all the contracts negotiated, and the contract finally was signed Jan. 3, 2012.
Castle elaborated on the significance of the work to be accomplished at the facility.
"The Los Angeles project is a tremendous opportunity for us to help stop the killing of homeless animals in L.A.'s city shelters," he said. "Best Friends, which for many years has been the leader of the no-kill movement, has a unique opportunity to put all of our experience to work on a project that, when completed, will set the standard for other such efforts in other cities throughout the United States."
City Councilmember Richard Alarcón, representing District 7 where the center is located, said the additional services offered by the Best Friends facility would help residents of his district.
"This new center will provide pet services that people in the Northeast Valley want and that animals in the Northeast Valley need," said Councilmember Alarcón. "More than 19,000 pets are euthanized in Los Angeles every year. This can be avoided if more people do the right thing and take advantage of the services offered at centers like this new facility in Mission Hills."
The new operation will greatly increase the number of lives that can be saved. Best Friends' goal in the first year is to find loving, forever homes for 3,000 pets from other L.A. city shelters and to spay and neuter 6,000 dogs and cats, with many of these pets coming from low-income areas of the city. That means 3,000 fewer animals that may otherwise have been euthanized in the L.A. shelter system, and potentially tens of thousands of puppies and kittens that won't be born into an already overpopulated community.
Los Angeles City Councilmember Tony Cárdenas said, "I am proud to have been an early supporter of the City's public-private partnership with Best Friends Animal Society. "To put off the opening of this life-saving facility would be wrong. This partnership simply could not wait."
The shelter will play an important role in No More Homeless Pets Los Angeles, a coalition led and funded by Best Friends that's made up of 33 local rescue and shelter partners, including Los Angeles Animal Services.
"It all adds up to a massive effort to make Los Angeles no-kill," said Francis Battista, Best Friends co-founder and board vice chair. "The coalition will focus on boosting shelter adoptions with the support of a subsidy program from Best Friends and reducing shelter intake through targeted spay/neuter projects that offer low-cost or free services to low-income residents."
The facility, which covers more than an acre, will house 36 Best Friends employees and an average of 150 dogs and cats, with a minimum of 100 dogs/cats on site on any given day. There is also a grooming room, a large dog play yard and two clinic areas.
Some of the celebrities who support Best Friends Animal Society but were unable to attend sent statements of support:
Actress Charlize Theron —"I'm so thrilled that Best Friends has been given the opportunity to open this new shelter for animals in need. Animal rescue is an issue near and dear to my heart and I hope that Los Angeles will embrace this new shelter and the Best Friend's organization, giving animals the gift of a safe and secure space as they search for a permanent home."
Country music singer/songwriter Willie Nelson and the Nelson family — "Thanks to Best Friends Animal Society for taking over the Northeast animal shelter and providing Los Angeles the opportunity to begin the transformation into a 'no-kill' city. This will set a much needed new standard of care for shelter animals everywhere. Hurray for Best Friends. Keep up the great work."
Actress Linda Hunt (NCIS LA) — "Since work keeps me from being able to celebrate the opening of Best Friends Adoption Center here in Los Angeles in person, I want everyone to know how happy I am that we have them to take up our cause, yet again, for No More Homeless Pets, in the unique way Best Friends accomplishes so much. I have been a member for many years, have visited their Sanctuary many times and have seen firsthand how they lead by example. Instead of competing for resources, they share. How lucky we are."
SPONSORS HELP LAUNCH THE CENTER—Businesses have stepped forward to help Best Friends in its first year of offering adoption and spay-neuter services at the Northeast Valley facility. Noted designer and fashion superstar Kelly Wearstler (http://www.kellywearstler.com) has donated her time to coordinate and select the colors for the public areas of the adoption and spay-neuter center. Additionally, Best Friends also sends its thanks to Dick Van Patten's Natural Balance Pet Foods (http://www.naturalbalanceinc.com/), for donating all the pet food for the facility's first year of operation, and to Universal Music Group Distribution for donating some of their excess furniture.
About Best Friends Animal Society
Best Friends Animal Society is a nonprofit organization building no-kill programs and partnerships that will bring about a day when there are No More Homeless Pets®. The society's leading initiatives in animal care and community programs are coordinated from its Kanab, Utah, headquarters, the country's largest no-kill sanctuary. This work is made possible by the personal and financial support of a grassroots network of supporters and community partners across the nation.
To learn more about Best Friends Animal Society Pet Adoption and Spay-Neuter Services, visit: http://bfla.bestfriends.org
To become a fan of Best Friends Animal Society on Facebook go to: http://www.facebook.com/bestfriendsanimalsociety
Learn more about Best Friends L.A. programs at: http://www.facebook.com/bestfriendsanimalsocietyla
Learn more about Best Friends Acclaimed Ambassadors: http://acclaimedambassadors.bestfriends.org/
Follow Best Friends on Twitter: http://twitter.com/BFAS
# # #